New Technique with Gilding Flakes
Every time I use gilding flakes I am amazed at the results, and this time is was no different.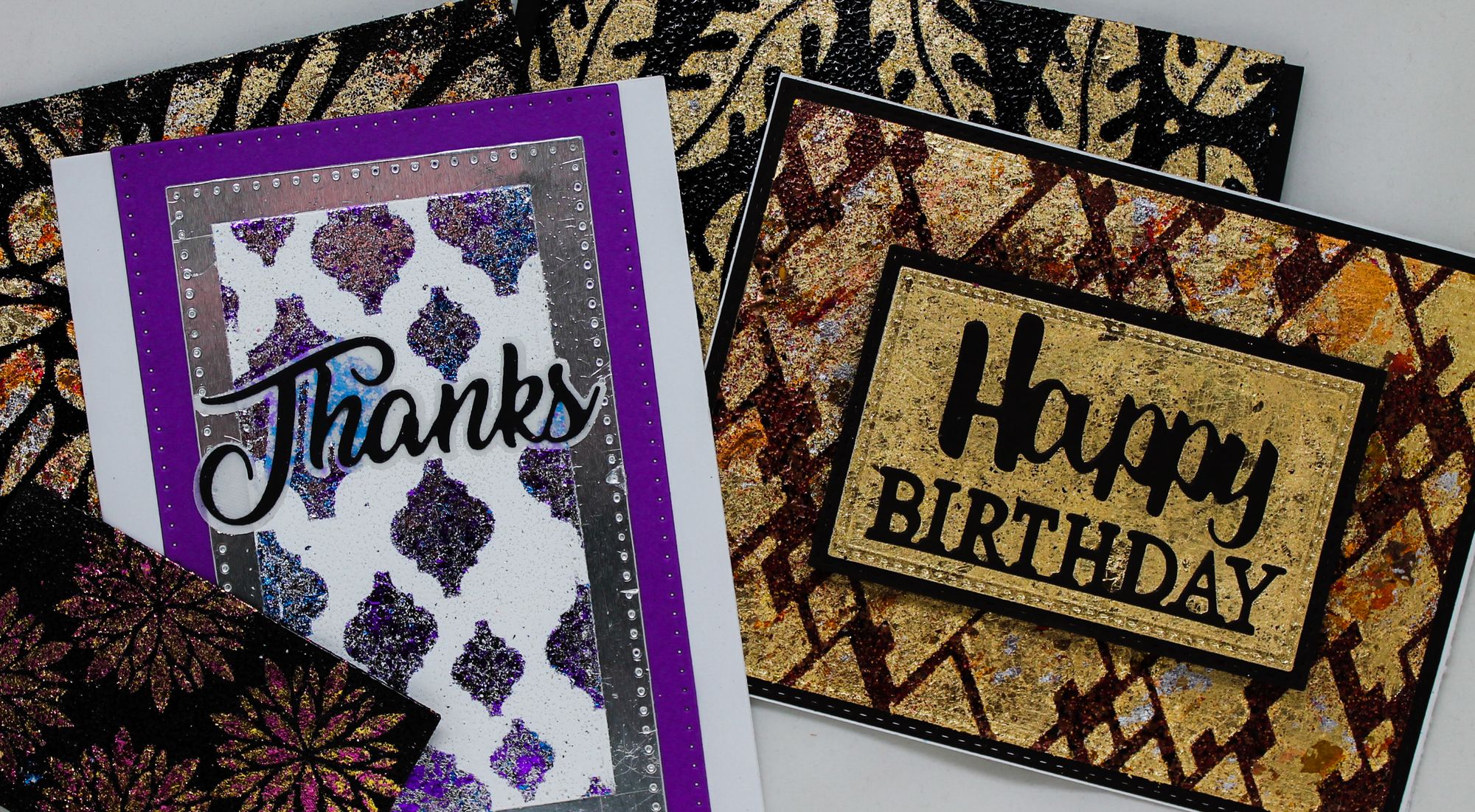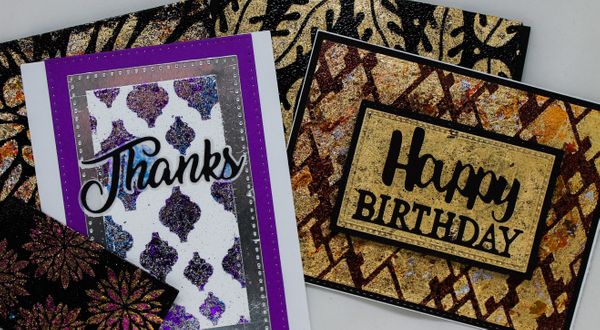 Every time I use gilding flakes I am amazed at the results, and this time is was no different. With much research I have found a new technique to use gilding flakes with. Well not new but different.
Let's take a look at gilding flakes. With these gorgeous hand-cut flakes you can create luxurious metallic effect backgrounds and highlights. You apply them with Cosmic Shimmer Flake & Glitter Glue or on double sided adhesive sheets and tape, then buff with a specialist sponge to give a smooth and shiny finish. There is a previous blog that explains using double sided tape techniques - Gilding Flakes Merry & Bright if you wish to read it.
Recently Cosmic Shimmer has come out with a new line of colors - The Aurora Flakes.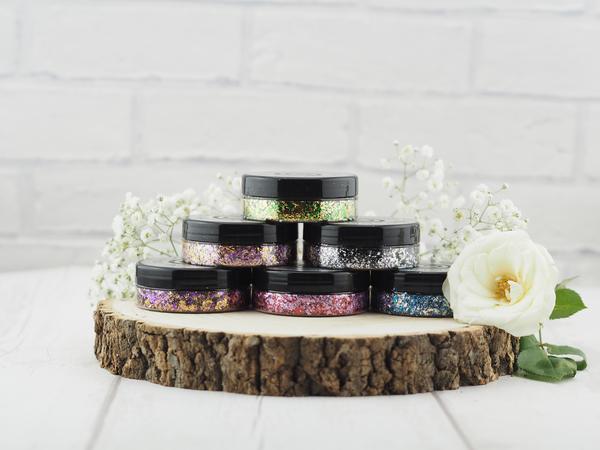 These Aurora Flakes come in 10 different shades and have all the shimmer and sparkle as the original flakes, just more color. With colors like Blissful Berry, Purple Dawn and Golden Rose the possibilities of gorgeous backgrounds and highlights are endless.
For today's technique we'll be using gilding flakes with double sided tape, a stencil and embossing powder.  So let's get started.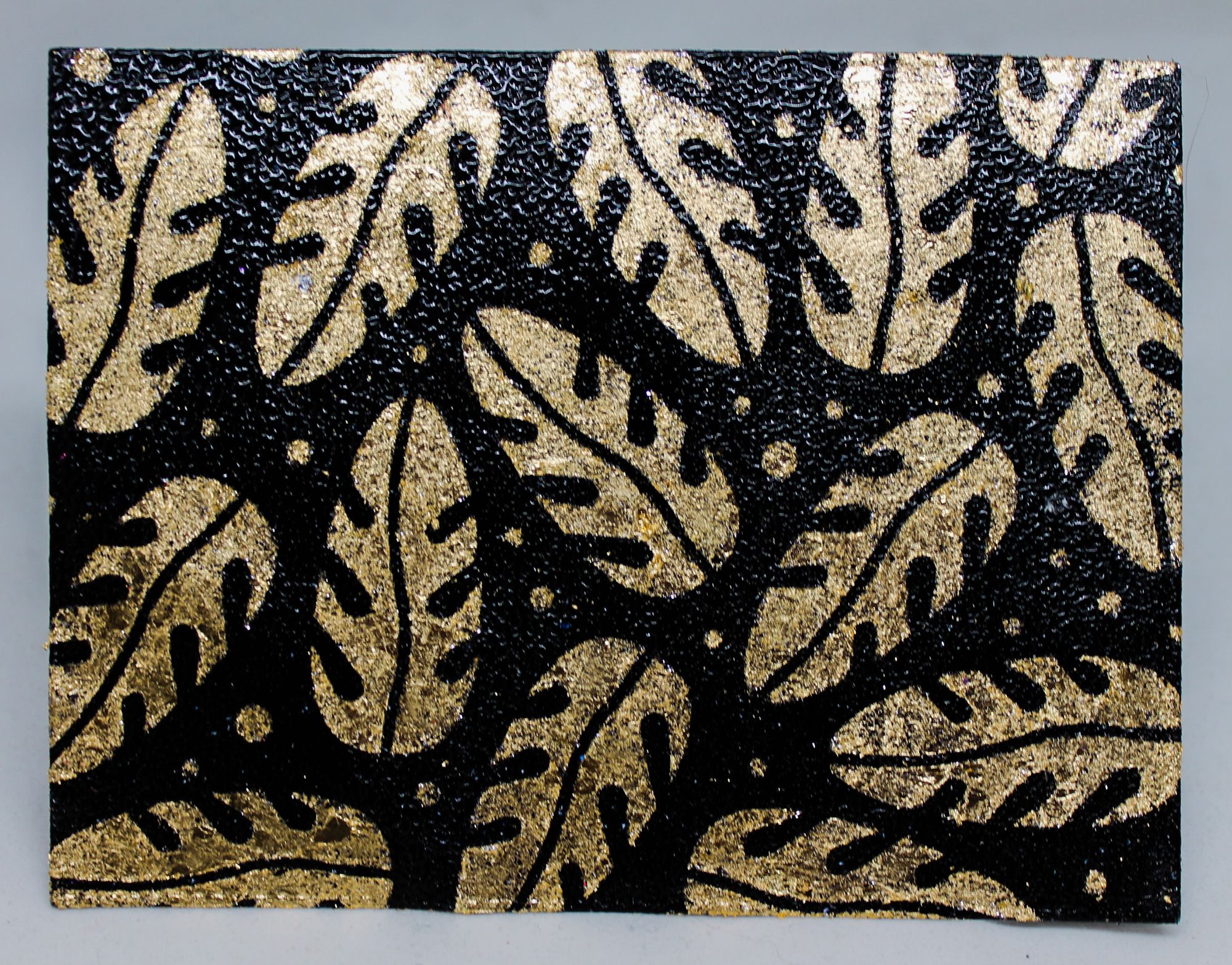 1.Decide what stencil, gilding flakes and embossing powder you want to use. For this first card I used Classic Gold Gilding Flakes, A stencil from Creative Expressions - Mask Jungle, Detailed Black Embossing Powder, And Double Sided Tape Paper.
2. Choose the size of cardstock you want to use, peel one side of the tape paper, cut to the same size, off and adhere it to your cardstock. Sometimes I like to make a whole sheet so that I have extra to use for other projects, or at least the size of the stencil I am using. I can later trim it down to whatever card size I want.  For this card I made approximately a  4 1/4" x 5.5". I used the Noble Collection - Double Stitched Rectangle Set B to cut my paper ahead of time
3. Run your VersaMark over the back of the stencil, the side that will lay onto the tape.  This will allow you to remove your stencil and not stick to much to the cardstock.
4. Once your stencil is in place on your cardstock you then will apply gilding flakes to the open areas of the stencil and use your sponge to move and work the flakes into every nook.
5. Remove the stencil.
6. Cover your background with the embossing powder and heat set until melted and smooth.
7. For this sample I wasn't sure how to finish off the card but I will keep you posted on how it ends. For now I will simply set it aside and when inspiration hits it will be there.
Each card is done using the same process as mentioned above but with different colors of gilding flakes and embossing powder.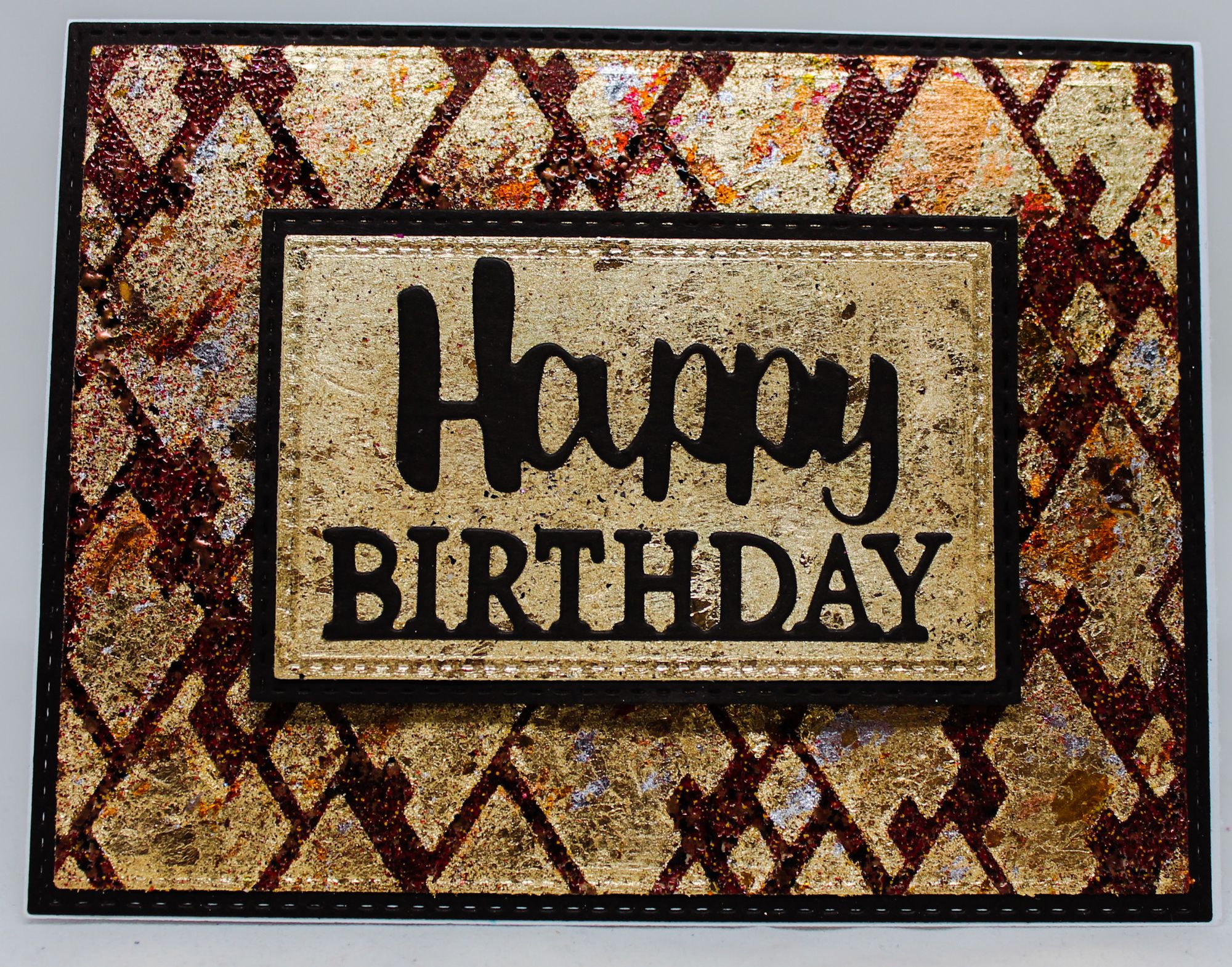 This card was made using Egyptian Gold Gilding Flakes,  a mask from Woodware called Diamonds as well as Cosmic Shimmer Mixed Media embossing powder in the Bronze Age color. For my label I used gold gilding flakes and two separate sentiments to make this happy birthday saying. Creative Expressions Stylish Script for the Happy and Frantic Stamper mixed font for the Birthday.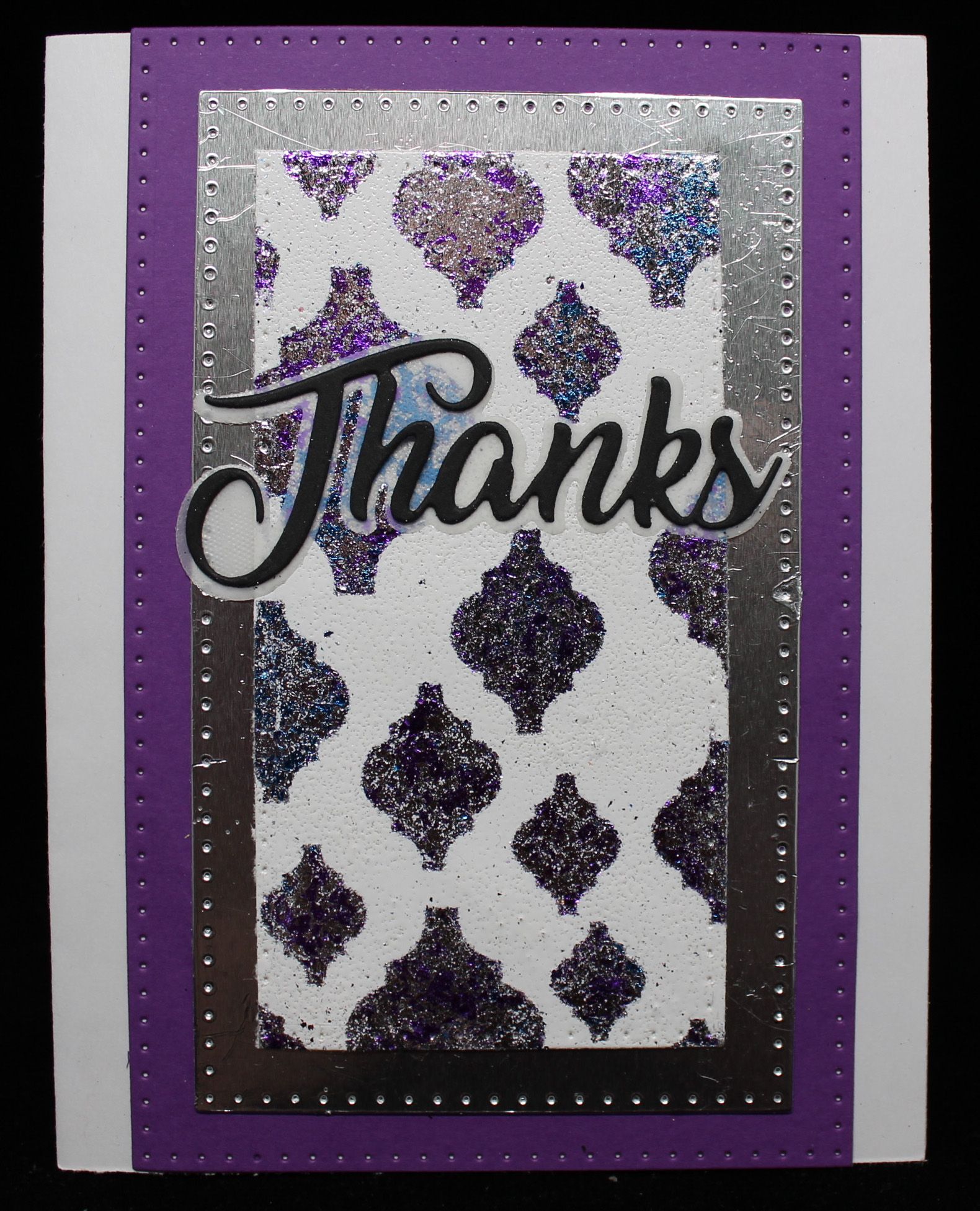 I decided to use the Aurora Gilding Flakes in Frosted Violet and Blue Ice. I used a Creative Expressions Mask called - Moroccan Tile along with white embossing powder. The sentiment is from Creative Expressions.
This final sample is made with the Aurora Flakes in the Golden Rose Color with the mini stencil called Festive Flowers. I used the black embossing powder here to finish off the background.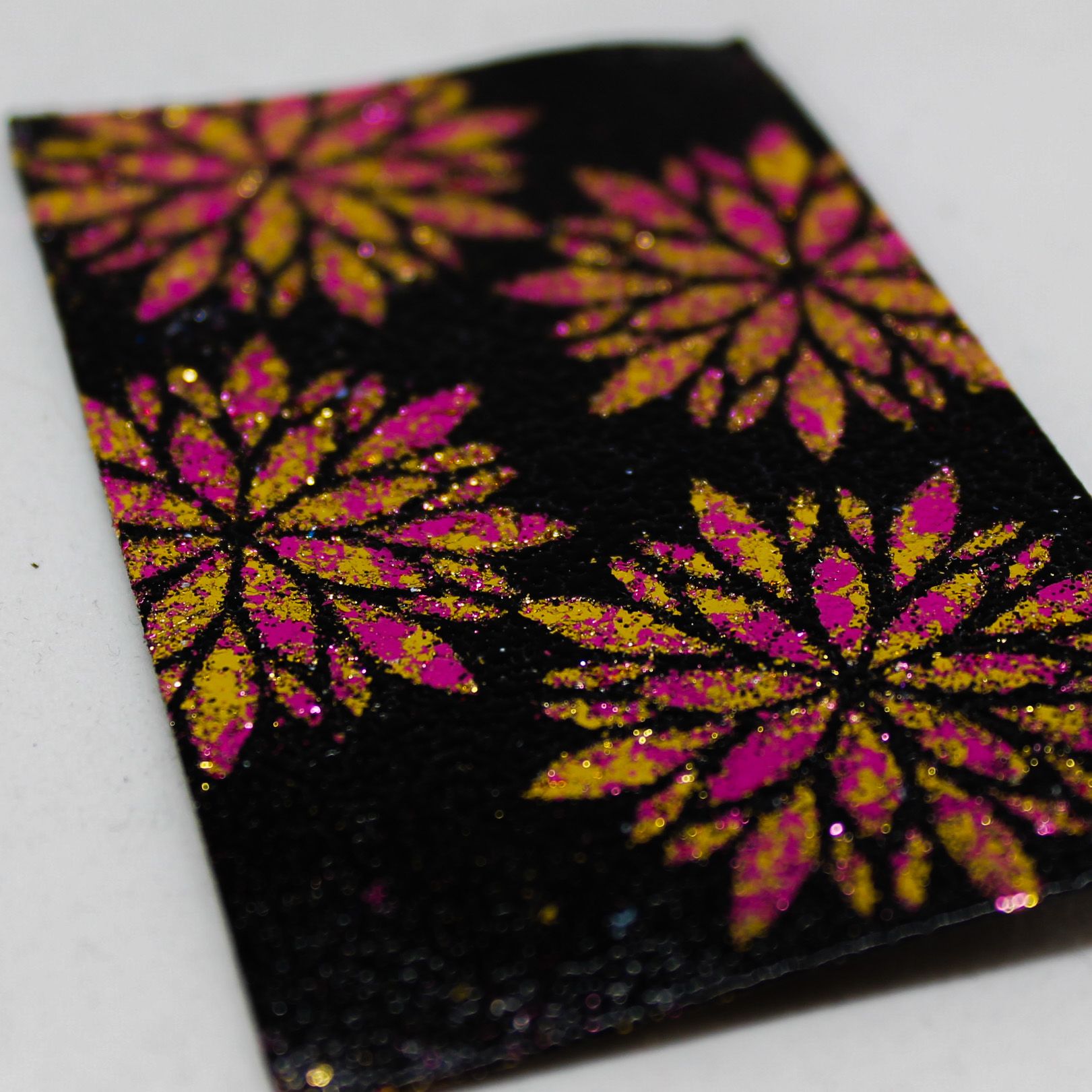 Every time I use Gilding Flakes I love the results and today I am totally excited about trying out more color combinations. I hope this inspires you to try this product out.
For those who are new to Gilding Flakes there is a new Starter Kit available so that you can try it out to see if you like it with out investing a lot of money. There are 6 different colors to choose from. It comes with a small jar of flakes, a small jar of flake and glitter glue and a sponge applicator. Everything you need to try this product out. When you fall in love with it, and you will, you can always come back and stock up on other colors.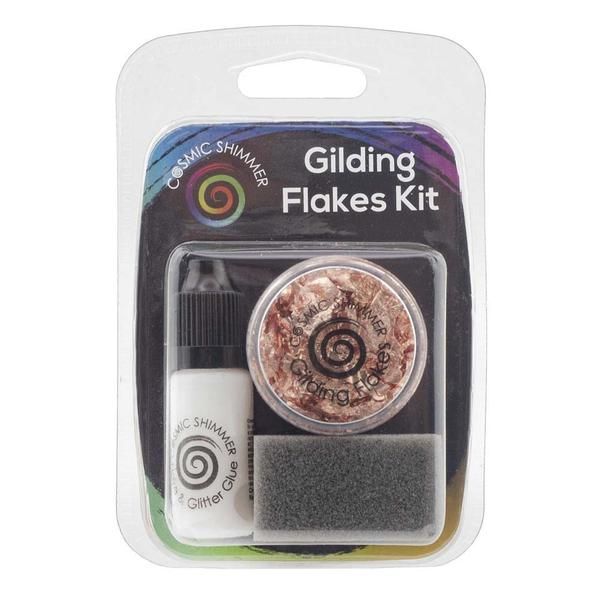 Thanks for reading, until next project
Katarina
Products used:
Cosmic Shimmer Gilding Flakes Kit
Creative Expressions - Mask Jungle
Woodware Mask - Dimonds FRST022
Creative Expressions - Moroccan Tile SYS011
Woodware Mask - Flower Center - FRST022
Creative Expressions mini mask - CEMSFLOW
Detailed Black Embossing Powder
Cosmic Shimmer Mixed Media embossing powder
Noble Collection - Double Stitched Rectangle Set B
Creative Expressions Stylish Script
Frantic Stamper  mixed font Happy Birthday