Small round card using the Sue Wilson Dogwood Panel die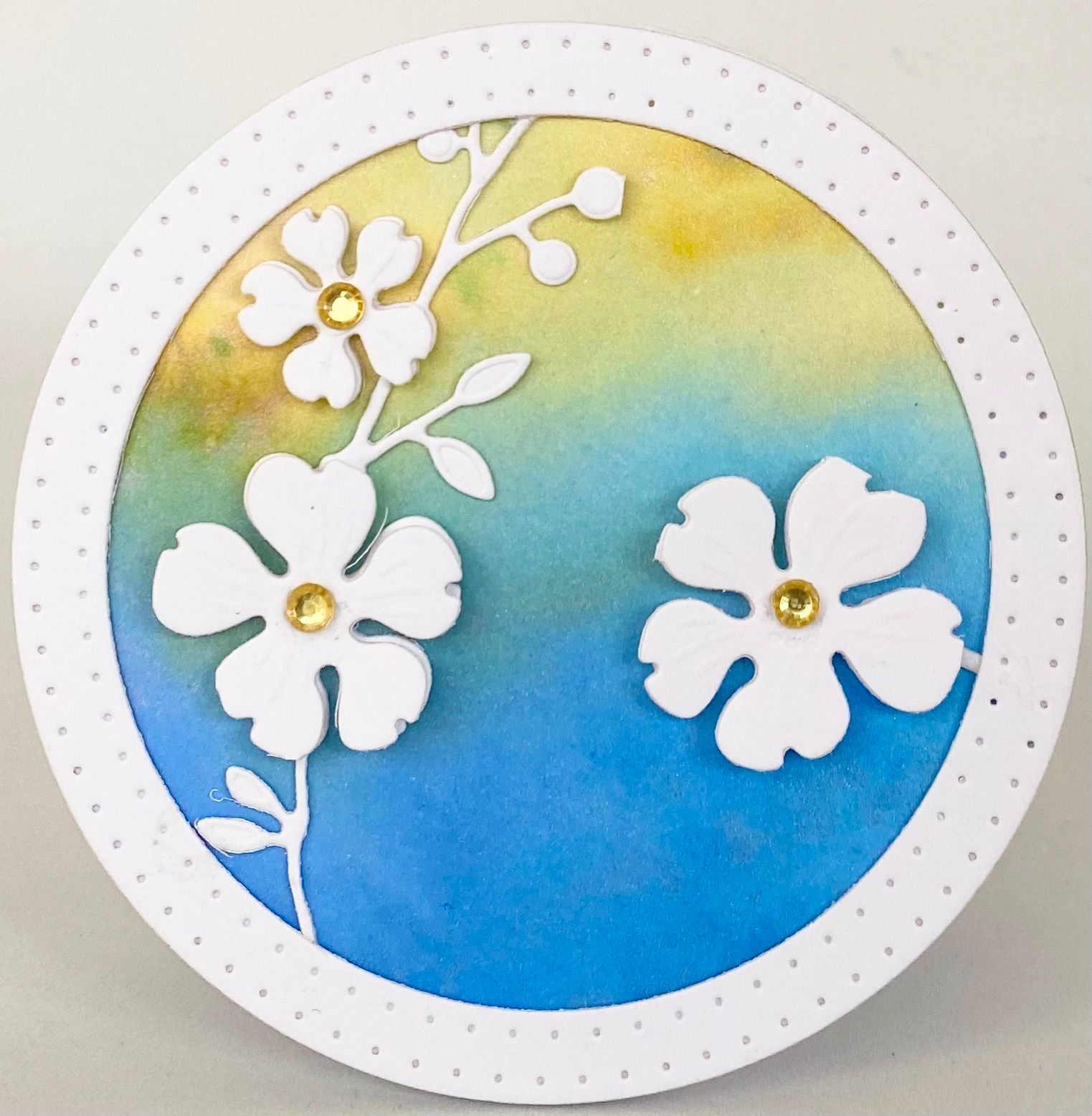 This card is a bonus card using the virtual class Sue Wilson Dogwood Panel die and pixie powders!  Although the picture is large the finished design measures  3.5" in diameter. For additional cards using these supplies, check out the Virtual Class video from April 14, 2022.
Supplies Needed:
Sue Wilson Dogwood Panel Die CED2050, Pixie Powders (Aqua Lagoon and Sun Yellow or Midnight Blue and Mango Blaze or whatever colours you may have), Sue Wilson nested stitched circle dies CED5513, water colour paper.
Cut a piece of paper that is approximately 3.75 x 8", and fold in half to create a folded card that is 3.75 x 4" square.
Take the 3.5" circle (inner diameter) and place just over top of the fold so that it will not cut through but cut a circle with a flat piece at the top.  Tape in place with low tack tape.  Die cut using a die cutting machine.
Take the 3.5" circle die and the next smaller circle die, tape together with low-tack tape and then cut a frame from white paper.
Create a pixie powder coloured background as per the video instructions.  Now cut a 3.5" circle from this paper.  Choose the section of the paper that you like best.
Cut out the dogwood panel from white card stock.  Cut an additional few flowers to make the flowers 3D on the final design. Cut from the panel the dogwood flowers and stems as shown.  Attach these to the back of the circle frame with glue.  Attach the frame to the Pixie Powder background design with glue, and then use foam tape to attach this combination to the circle card already created.
Add a sentiment to the inside as desired.
Use the dogwood panel die in many ways to create different shaped cards, also use different combinations of pixie powders to create beautiful background designs or to paint your die cuts (see video)!