When I began designing this card I really didn't know in what direction I was going, but I knew I wanted to use a couple of new things in my stash. The first is the Girl with Cat stamp and die set. Nellie's Choice has come out with a line of "Just Me" Stamp and Die sets and as soon as I saw this one I totally loved it and couldn't wait to make a card with it. The second die is from Studio Light and I believed it was a tri-fold card die cut, and it sort of is. I'll explain later.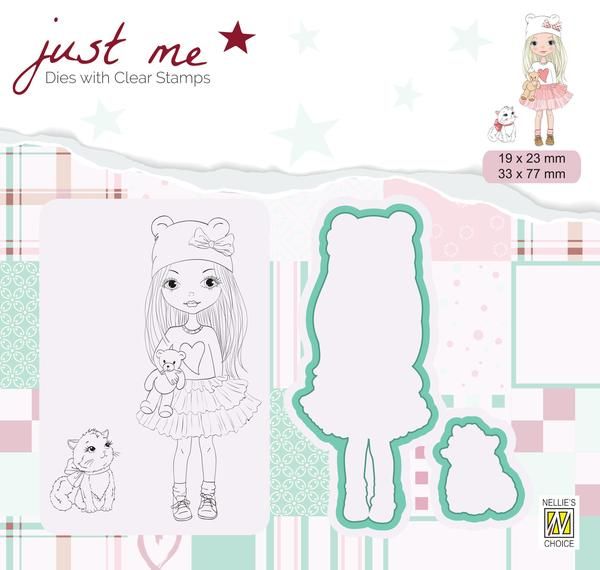 I stamped out the girl and cat three times so that when I mess up I have extras already stamped out and if I don't use them them I will have extra for next time. I went ahead and colored them in using my markers and set them aside.
To make the card base I cut the base in white, the layering background in light pink and the detailed embellishment in a bright pink. I also cut out an extra layering background in light pink, I will use this for the outside of the card. Included in the die set are two rectangle dies that fit inside the card perfectly so I cut one from bright pink and the top layer from white.
To create the outside panels I used die to emboss the light pink layering elements I cut out earlier. To do this you will line up your die with the cut out element (cutting side of the die to the paper), place the whole thing die side down onto your cutting plate, place your embossing mat on top, turn your cutting pressure way down and run it thru you machine. This will give the background layering element the embossed image of the die cut. If it cut right thru you will need to turn the pressure down further on your cutting machine.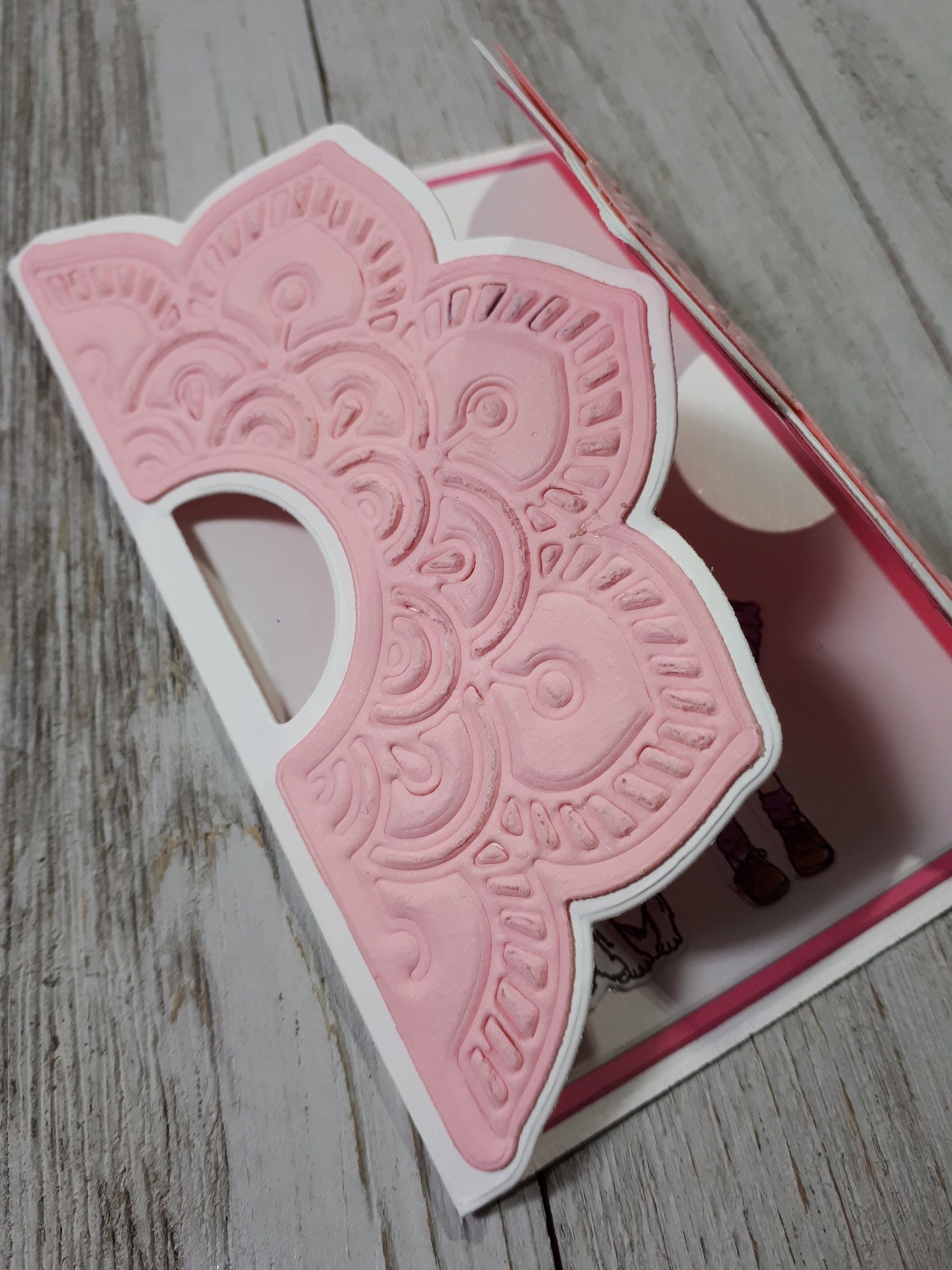 To assemble this card I simply used sticky specks to adhere everything together and layered them accordingly. I adhered the embossed pieces to the outside of the card. Before adhering the colored girl and cat I did a simple ink blend in Spun Sugar Distress Oxide Ink and a sentiment stamped in black Versafine Onyx Ink.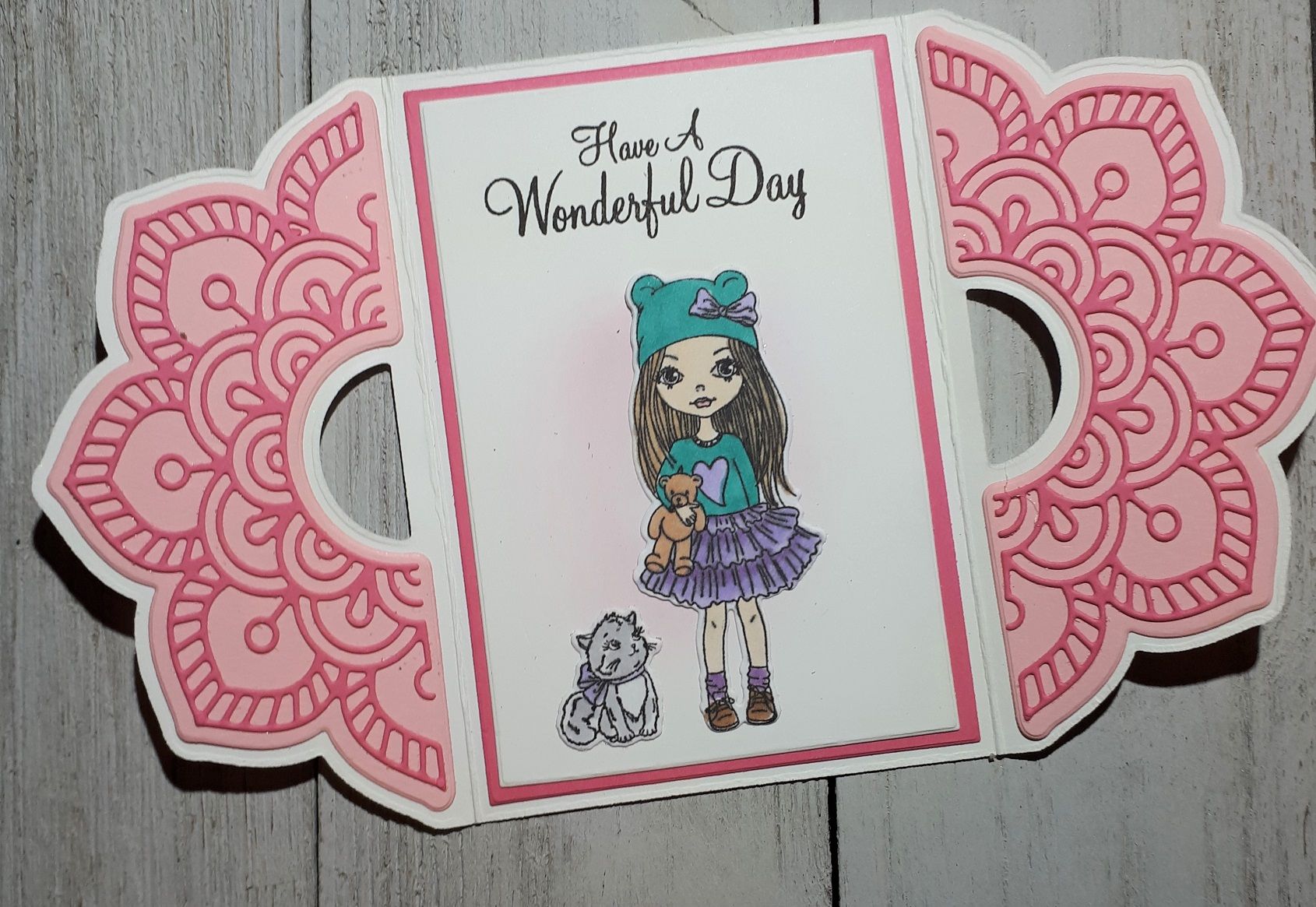 The finished card turned out cute like usual I think and I really like the detailed embellishment the die set had to offer. As for the tri-fold card, not sure. I think this design is meant to sit open on a stand of some sort. It really would display the inside of the card nicely so it's an opportunity to really embellish the heck out of it. And of course I loved the stamp and die set from Nellie's Choice, I just can't wait to get my hands on some other designs.
Well I hope you enjoyed this card and are inspired to create something of your own. Until next project
Katarina
Products I used:
Nellies Choice Stamp And Die Set - Girl With A Cat
Just Me Stamp and Dies Collection
Studio Light Embossing Die Cut Essentials nr.278
Kaskad Folio coloured cardstock