Wine Bottle Hanging Tag
A quick and easy product, perfect for the holidays.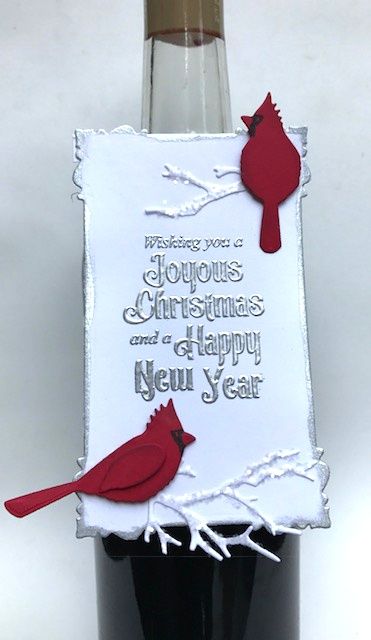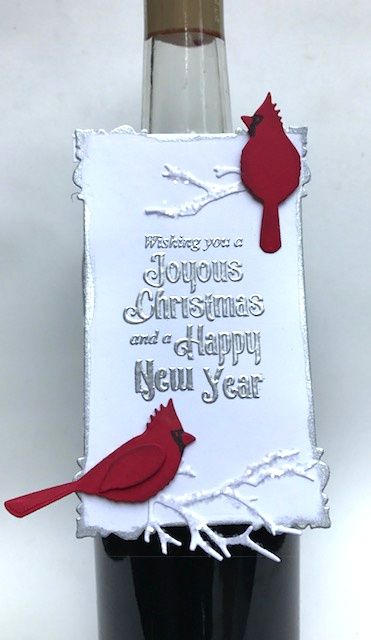 A quick and easy product, perfect for the holidays.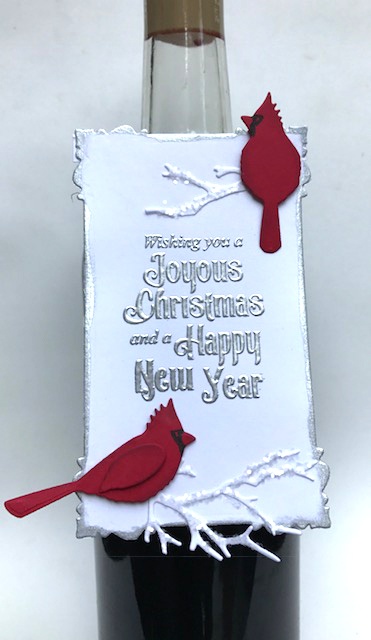 Materials
Tag Shape Galicia CED1205
Branch CR1374 (or any other branch you may have)
Cardinals IME222
Circle die MFD055
Stamp CEC839
Metallic Gilding Polish in Silver Dream CSMGP11
Scoring Board and Stylus
Glitter Jewels in Glacier Ice
Versamark Transparent Ink
White and red card stock
Cosmic Shimmer Metallic Embossing Powder in Silver Shine
Thin Black Marker
Dries-clear glue
Double-sided tape
Directions
Die cut the background shape using the large frame from the Galicia die set.
Cut a piece of white card stock that measures
Score a line about 1/4" from one edge.
Die cut a circle opening in to the piece of card stock so that it is centered between the score line and opposite edge of the piece.
Die Cut 2 cardinals one facing right with the wing and one upright facing left.
Die cut one branch from white card stock.
Brush gilding polish around the edge of the tag.
Stamp the sentiment into the center of the tag using Versamark clear ink and then heat emboss with the silver shine embossing powder. The silver embossing powder tends to move when the heat is applied directly. It does not do this if you apply the heat from the back of the paper.
Cut the branch so that you have a small piece of branch for the upper cardinal and the larger branch for the bottom cardinal. Glue into place.
Add a black mask to both of the cardinals using a fine tip black marker.
Add the wing to the cardinal facing right and attach to the lower branch.
Attach the scored edge to the hanging tag at the upper part of the tag using double sided tape.
Apply a small amount of glue to the branches and then sprinkle iced snow on top to create glistening branches. Allow to dry.
Want more news, promos and ideas?