It's all the hype now, slimline cards, so here is my first one. Woodware comes out with some great long stamps that are perfect for slimline cards and for this card I wanted to use the long stamp that has a stack of cute bugs. I also used Cosmic Shimmer, Shimmer Shakers to color in these bugs because they really have some vibrant pigment to them and thought they would be perfect for this project.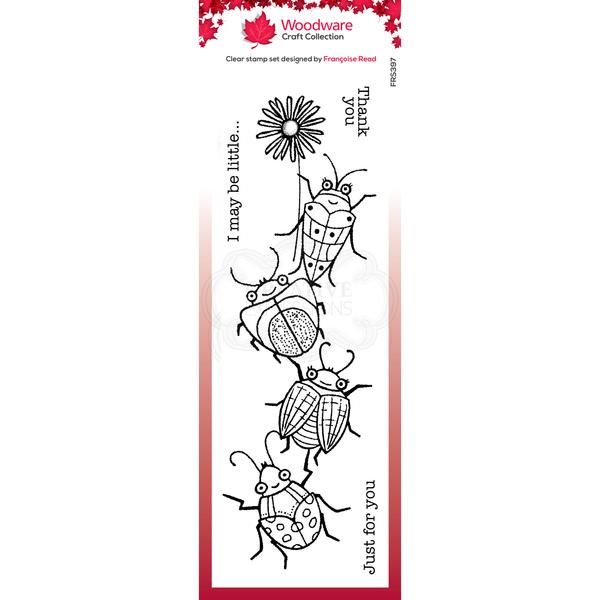 Shimmer Shakers work like watercolors so when you add water to them you can paint with them. I like to use a regular brush to paint with this medium because I can control the amount of water I add, but you can use the water brushes if you prefer. The more water you add the less intense the color will be and when you use these on darker colored paper opposed to white or light the color is way more intense.
For this card I first cut the base to 8.5" x 7" and scored it down the center to make a 8.5" x 3.5"card base. I stamped the main image in the center of the front card base using some versfine ink in black. I also stamped a couple more images onto scrap paper using both white and black paper as well as colored and black embossing powder. There are so many embossing powders colors to choose from so have fun here and try something new.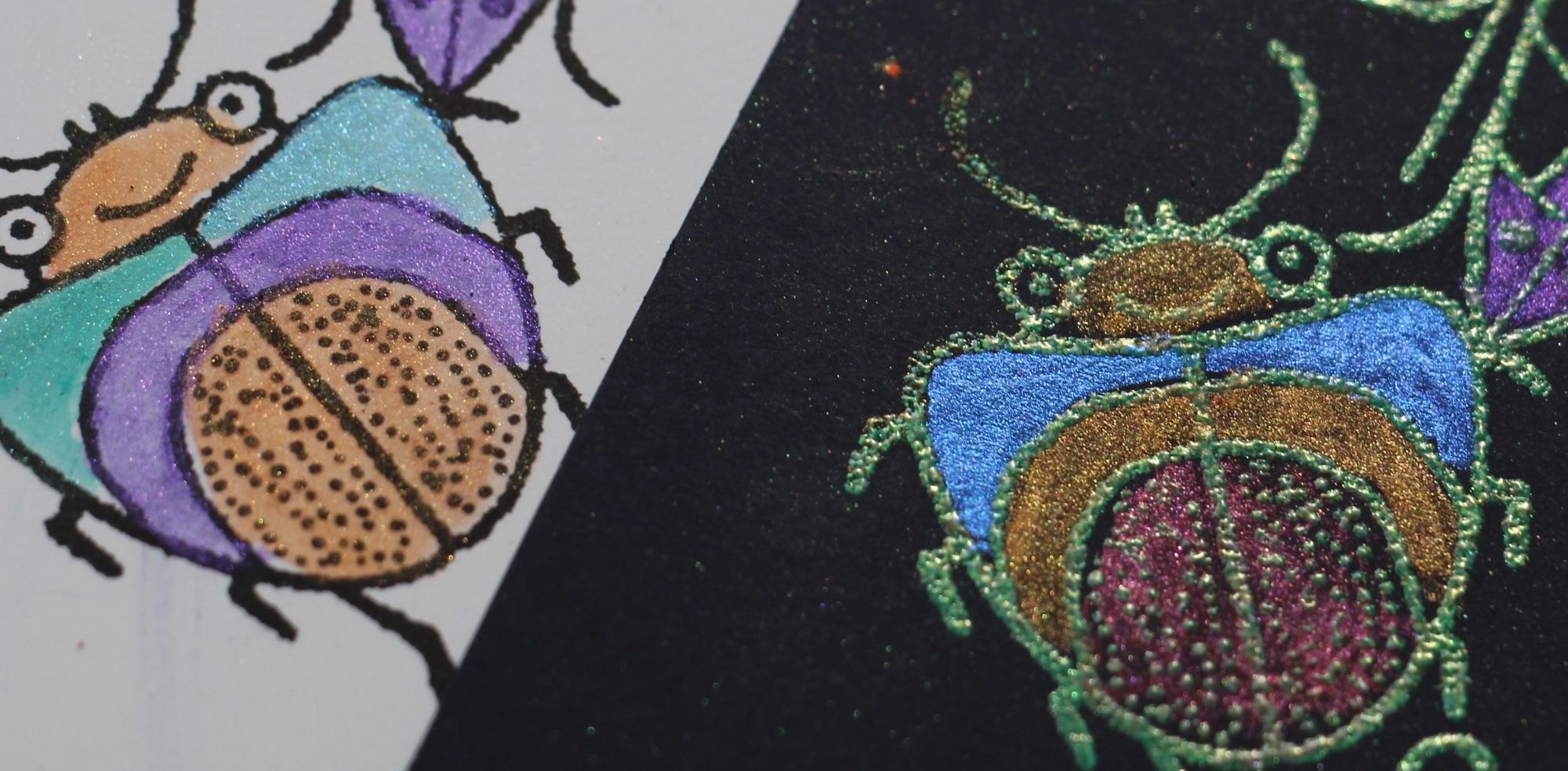 Back to the card base piece. Using the shakers I tapped some onto my work surface and added water making sure to blend the powder and water, then I pounced my paper onto it picking up random colors. I repeated this step until I had a background I liked. I also used different colors and splattered some color as well just to add even more interest to the background.
Next we are going to paint the bugs. I added some shaker to my craft mat and a small amount of water to it, remembering the more water you add the less intense the color will be. I colored both of the embossed images on the white and black so I would have options for my card. Once dry, you can fussy cut them. Do not worry about cutting around the legs because they will be adhered directly on top of the bugs on the background so the legs will stick out from the main body part. I adhered these using 3d foam tape to make them pop. I also added a birthday sentiment from the classic stamp set CEC925.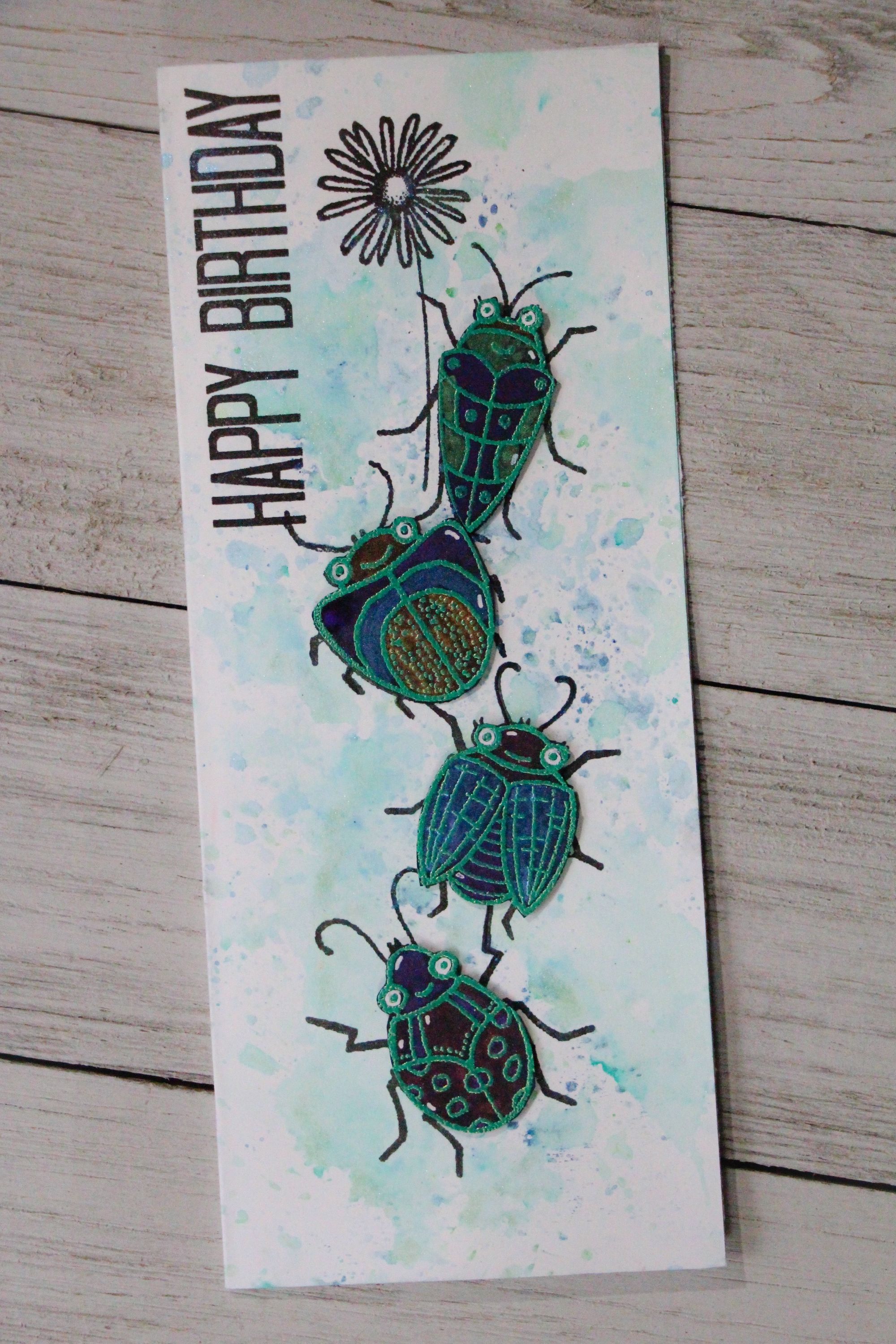 I really enjoyed making this slimline card and I think that Woodware really has stamps that lend well to this card shape. Make sure to check you stash, find what works for you and have fun!
Until next project
Katarina
Products used:
Woodware Clear Singles Beetle Flower - FRS397
Cosmic Shimmer Shimmer Shakers
Modern Classic Sentiment Stamp - CeC925