Hello and welcome back to our blog. I've always loved the look of watercolor but was never that good at it. Over the weekend I had the opportunity to play with Cosmic Shimmer Shimmer Shakers and Creative Expressions flower clear stamp sets. The Shimmer Shakers are a combination of dye, mica, and pigment powders, they provide fabulous color and shimmer when they meet water. So for these cards I decided to use them as watercolors to bring out the beauty of the mica powders Available in  24 different colors you really have the freedom to mix and match a variety of colors.
Let's get started. I decided to use the Creative Expressions Clear Stamp Sets CEC 884 - CEC 889 to paint a variety of flowers and so that I can use all the colors. I used my craft mat tap some of the shaker onto it and then added a small amount of water to each color. Keep in mind that the more water you add the lighter the color will be. So if you want an intense color then only add a drop or two of water. I also used the water brush set from Cosmic Shimmer. This set comes with two brushes and I find this technique easiest with two brushes, one for clean water that you will be applying to the image and one with the color on it to paint with. I also used watercolor paper for this technique.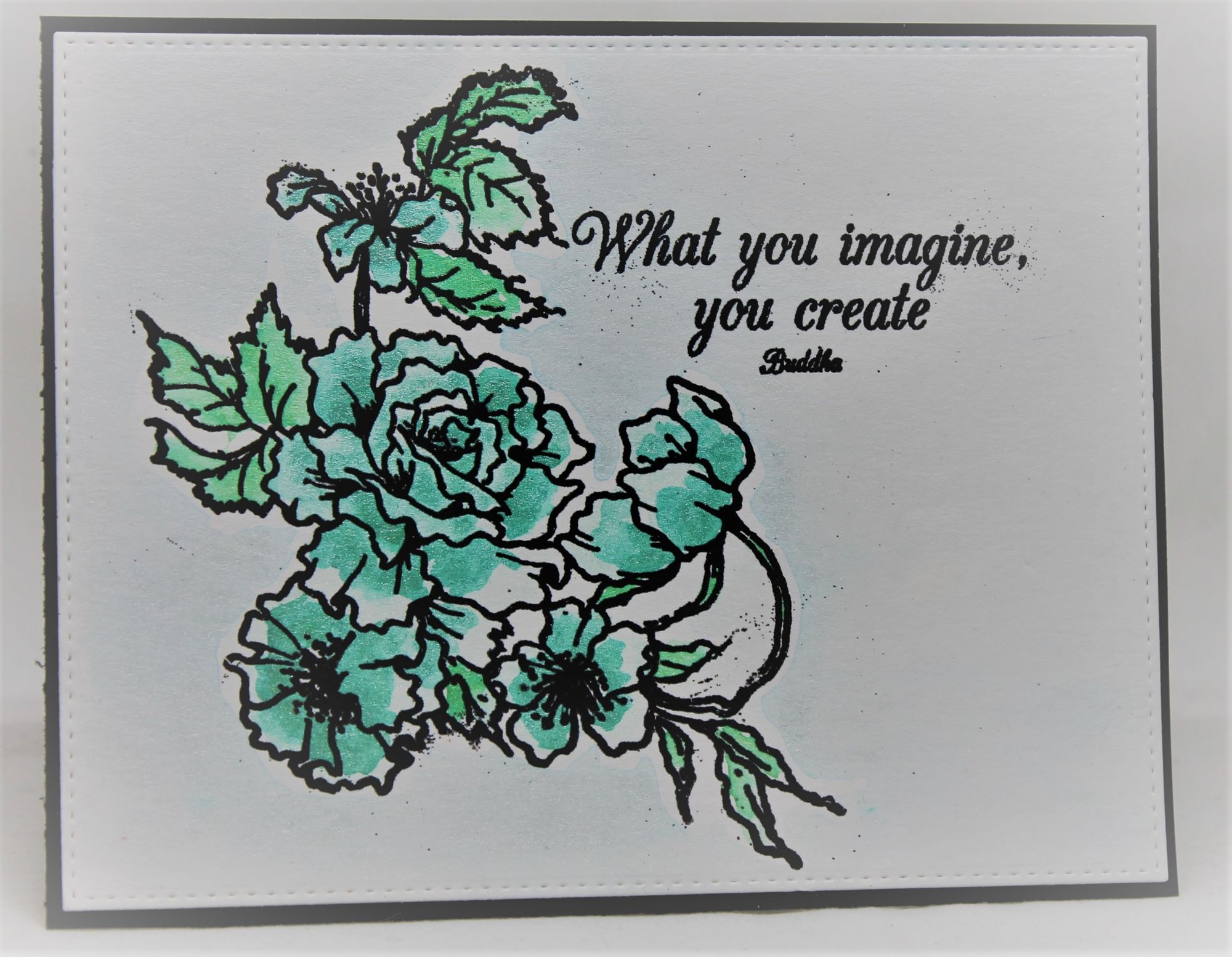 I heat embossed my image so that the image remains crisp and clear and there will be no chance of bleeding while I paint. I used Cosmic Shimmer Detailed Black Embossing Powder to heat set the flower image.
Using the brush set aside for clear water, paint a section of flower. You want your paper to be wet but not soaking in water. Play around with it and you will find the perfect wetness for this technique. Once the petal is covered in water take your other brush that has color on it and touch the spots where you want the most intense color. The color will magically start to spread on that section where the water is. Try and paint one section at a time and when you get more comfortable with the technique you can eventually paint more sections at a time.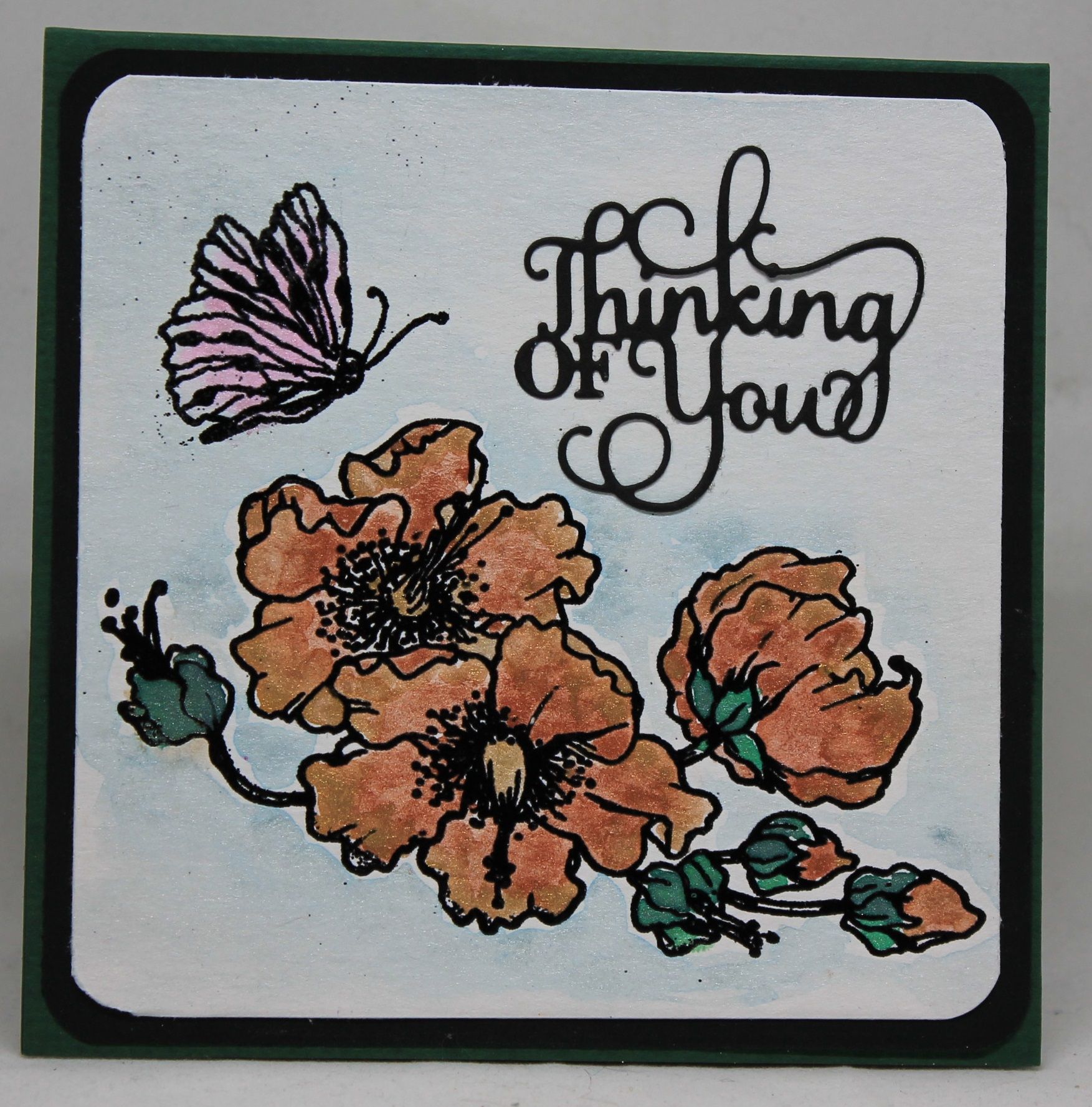 When the image is dry, go back to your shakers and add a small amount of ice blue to your pallet. I diluted this one quite a bit and I just used it to add color to the background. At this point you want to make sure that you don't touch the colored image where you already painted so that not to make the  image bleed. I usually keep a border around the stamped image to avoid this.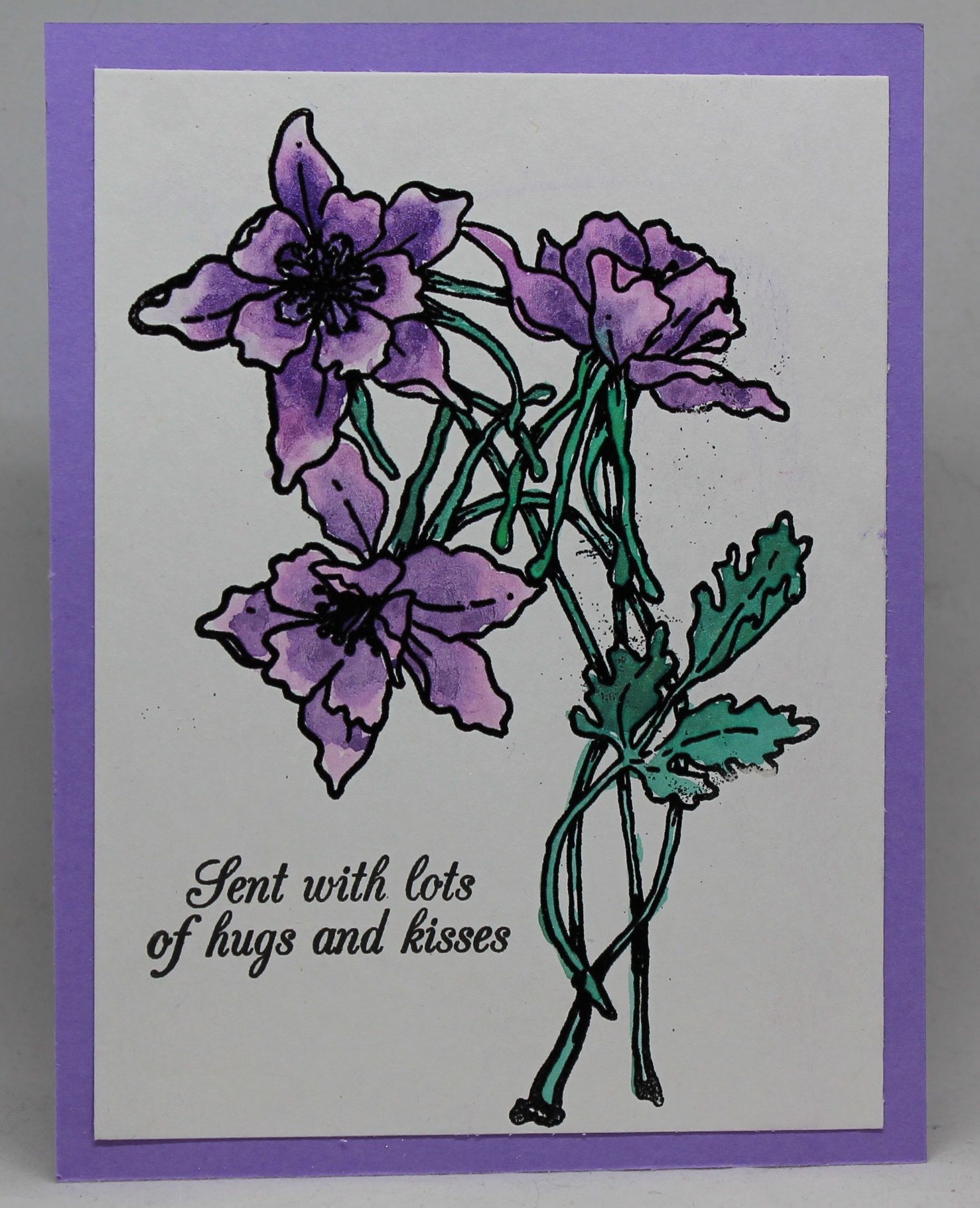 To finish off the cards I simply added a sentiment. Each stamp set comes with sentiments or you can use something you have in your stash. Then use layers of matching color and mount onto a card base.  
For those of you interested we have put together a bundle deal featuring today's products. A bundle includes one of six beautiful floral stamp sets and 3 shimmy shakers. Also if your interested in purchasing an additional shimmer shaker you'll get 25% off. Act fast supplies are limited.
I really hope you like this technique and give these Shimmer Shakers a try on your next project.
Until next time
Katarina
Products used :
Creative Expressions Clear Stamp Sets
Cosmic Shimmer Shimmer Shakers
Creative Expressions Watercolor - CEWATER