Out of Africa ... my adventures in stamping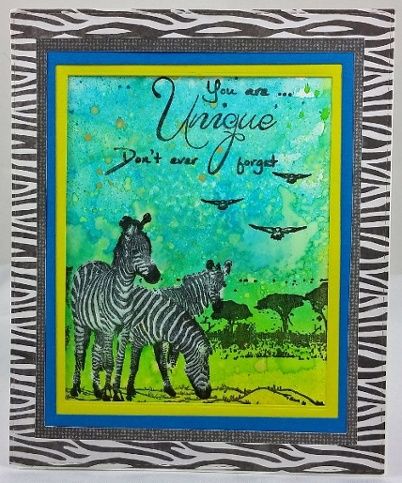 Set out to make use of the Cosmic Shimmer ink colours that came in a couple of months ago. I used a full A4 sized sheet of paper and painted new colors the "Sunshine" in the middle, the "Lime" on either side of the Sunshine and then the "Electric Blue" on the top and bottom. Then I spritzed the same colour portions with the same series of Misting Inks and toped the whole background with the Mica Mister in Gold, just to give it a bit of "zing". I cut the paper into 4 equal sizes to allow me to make 4 different cards with this background.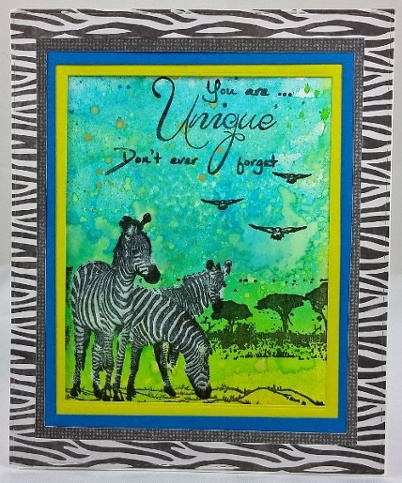 I loved this stamp from Joy Crafts with the African theme. I stamped my Zebra on the bottom portion. I masked off the trees I was using so they didn't show through the zebra part of my image. I used a different stamp set to do the "ground".
Because I did my background first, you could see the colours showing through the "white" areas of the zebra. I couldn't live with that.
I used a crocodile tool and small pompom and with some white pigment ink, coloured through where the white zebra stripes where. I had removed my zebra stamp from my Stamp "buddy" from Leane Creatief but because the image was pretty distinct, I could like it up and restamp the black.
I framed this card up with the paper pack that came with this release and I think this really makes the zebra pop off the page!! Finished it off with a sentiment from Creative Expressions and some bird stamps from another set.
I was pretty pleased at how the white ink made this card come to life.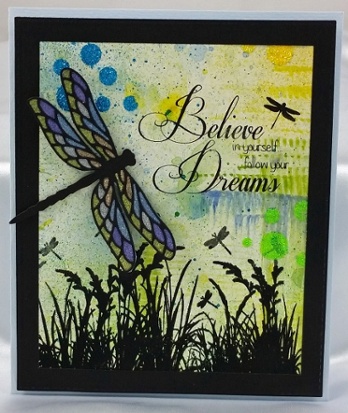 Here's another card I did and used the same sentiment stamp set from Creative Expressions. It's got a lot of really useful sentiments. At least it's the kind of messages I tend to use a great deal. On this card, I used the same ink series in a Texture Paste and mask from Creative Expressions. But spritzed the paper with the spray inks of Blue, Lime and Sunshine.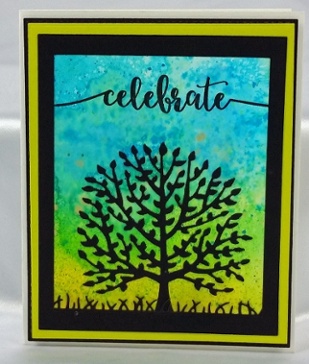 And lastly, here is another card I did with that background watercolour ink technique
Hope you enjoyed this card. Until next time.