Last week was our Virtual Yard Sale where we offered some fun new Mystery Boxes full of themed goodies for cardmaking at a fantastic low price. We were so excited that these Mystery Boxes were so popular that they almost sold out over the weekend! We will definitely do something similar again in the future with even more stock so you can have the fun of gifting yourself (or a crafty loved one) an exciting kit full of mysterious items to make new cards.
Today I want to share some of the cards that I made with the Feminine Box. Please keep in mind that not every Mystery Box is exactly the same. While we tried to ensure that all of the main items in the box match, you may find that some of your items were swapped out with items of similar value/style.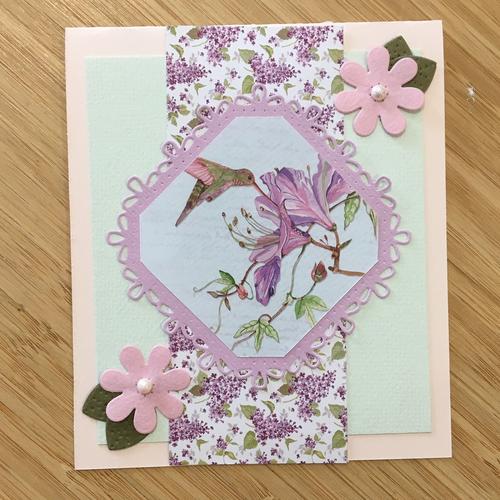 The card shown above was my favourite creation with the Mystery Box items. As you can see, the main focus of this card is a beautiful image of a hummingbird. This bird comes from one of the cutting sheets included in the box. I hand-cut the shape so it would fit perfect on my die cut piece. In the background I used some beautiful lavender scented paper and pastel green and pink cardstock. I finished the card off with some cute flowers and leaves (included in the same die set as the frame die) cut with mulberry paper and finished with light pink pearls.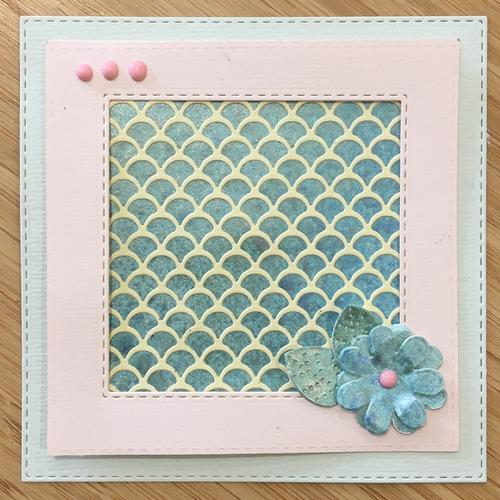 This next card can be used for all kinds of occasions: birthdays, Mother's Day, thanks and more. All it needs is a tag and a sentiment to finish it off! You can see I used the same cardstock as the first card to create the background and frame. I also used the same flower and leaf dies in this card. I changed up the pearls, this time using Cosmic Shimmer Coloured PVA Glue in Pink to make my own pearls. The background and the flower and leaves are all white card stock that has been coloured using Cosmic Shimmer Vintage Misters for a lovely shimmering effect. I also used a background die from Couture Creations called "Fans of Fantasia". I used Sticky Specks to attach the die to the background, that way I avoided any messy glue.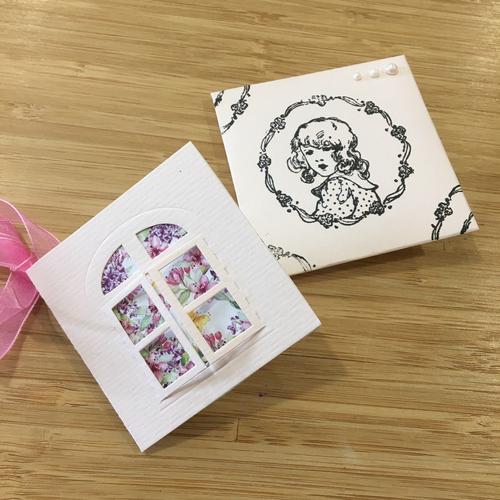 This gift tag was fun and simple to make as well. The Feminine Mystery Box comes with a pack of pre-cut tags. This one includes a window with pre-scored edges so it can open and close. There are so many great ways to use this tag! I used the same scented lavender paper from the first card for the background. I also added a ribbon to attach the card to a gift. Each card also has a coordinating envelope, which I decorated with a vintage stamp from Marianne Design and some pearls. Too easy!
If you weren't lucky enough to get your hands on one of the Femine Mystery Boxes this past weekend, here is a list of the items I used to make these cards.
I hope you enjoyed these cards! If you did order a Mystery Box, be sure to share your creations with us on our Facebook Group Crafting With Ecstasy or share your creations on Instagram with hashtag #craftingwithec.
Want to take a look at even more card inspiration from our Mystery Boxes? Watch our presentation from last week to see some of the kits in action. More blog posts to come with Christmas and Masculine Mystery Box inspiration!