We absolutely love this adorable die from Dee's Distinctively named "Theo". Dies that involve putting together several layers can be intimidating, so we are sharing some instructions to show how easy it really is.
Step 1: Cut your pieces
The benefit to cutting and layering multiple pieces is that you can introduce multiple colours of cardstock into your project without colouring by hand. In the case of Theo, you will need:
Dark brown for the body
White for the chest, face and paws
Black for the nose
Any colour you like for the collar (we chose blue)
Optional: we chose to cut the belly and ears in a light brown, however you can choose to cut it only once in dark brown and colour with ink, paint, or gilding wax, or leave it dark brown.
Here is a photo of the die with the individual colours to help you organize: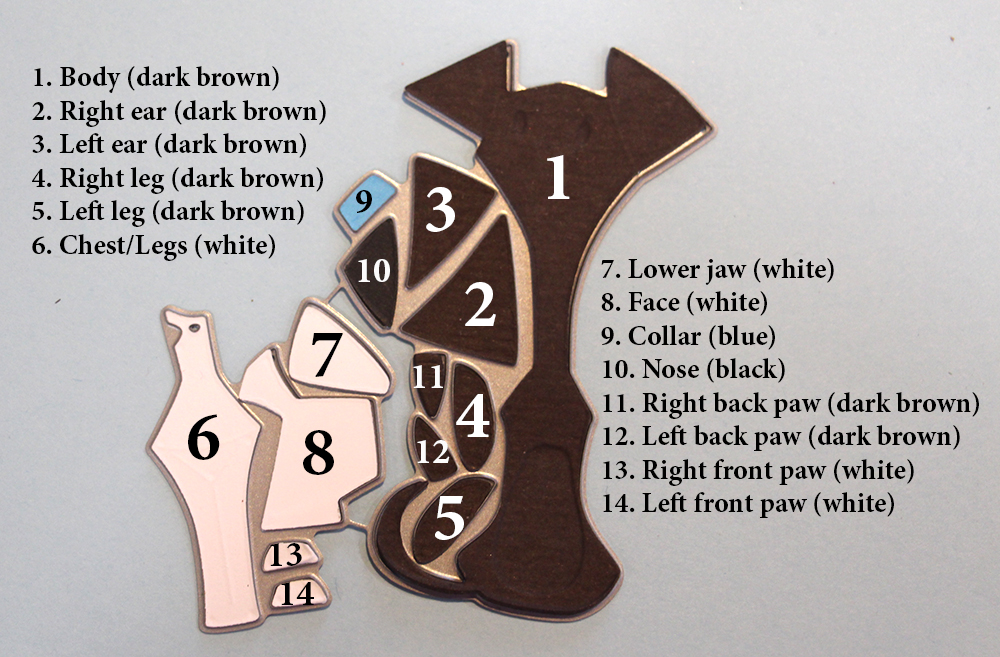 Don't forget to emboss pieces #1, #6, #11, #12, #13 and #14
Now it's time to assemble your dog!
Step 2 (Optional)
If you chose to add light brown ears and belly, cut piece #1 in light brown, then use scissors or a craft knife to cut out the pieces by and add them to your project with glue.
Step 3
Add your ears and back legs (pieces #2-5)
Step 2 (Optional)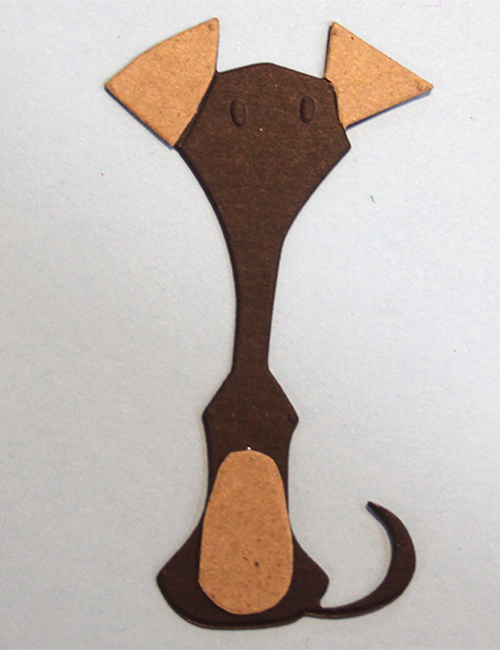 Step 3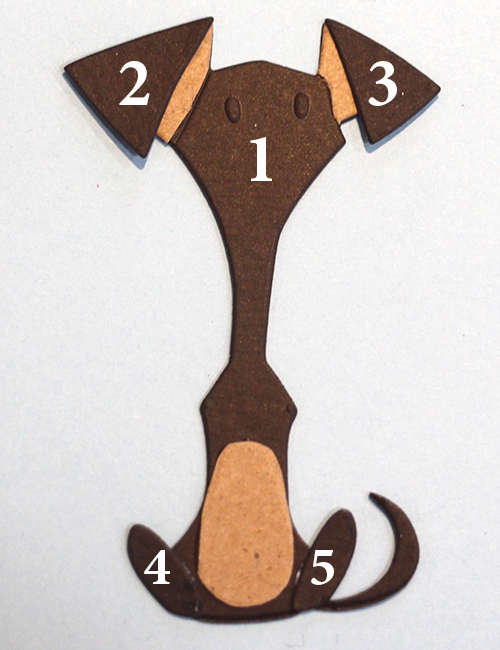 Step 4
Time to assemble your face. We recommend gluing the bottom jaw (#7) to the face (#8) before adding it to your dog's body. This will allow you to easily attach the jaw in the correct position. Once your face is assembled, attach it and your chest/legs (#6) with glue.
Step 5
Final steps. Add your dog's collar (#9), nose (#10), and paws (#11-14)
Step 4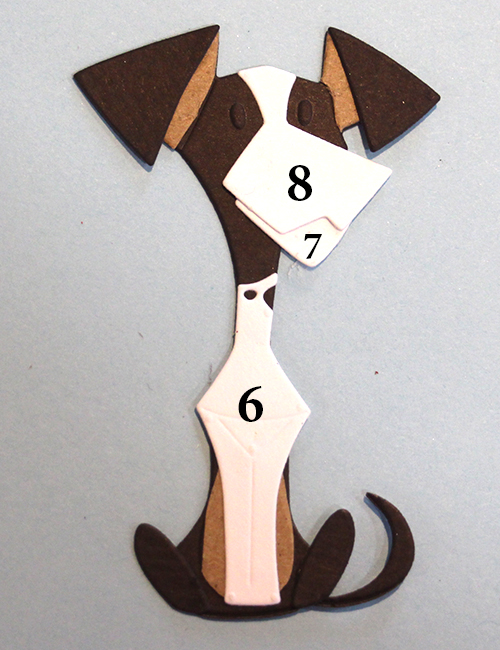 Step 5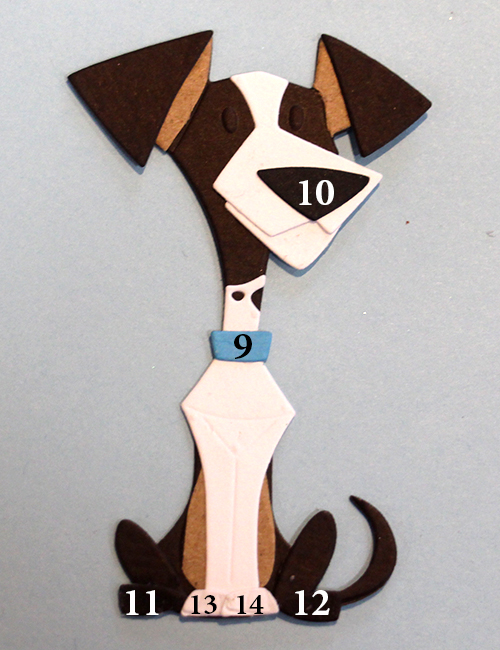 You can now add some finishing touches: use a dark marker to colour in your dogs eyes and some white paint to add some shine to your dog's nose and eyes.
Do you love dogs? You can find Theo as well as a selection of other breeds on our website: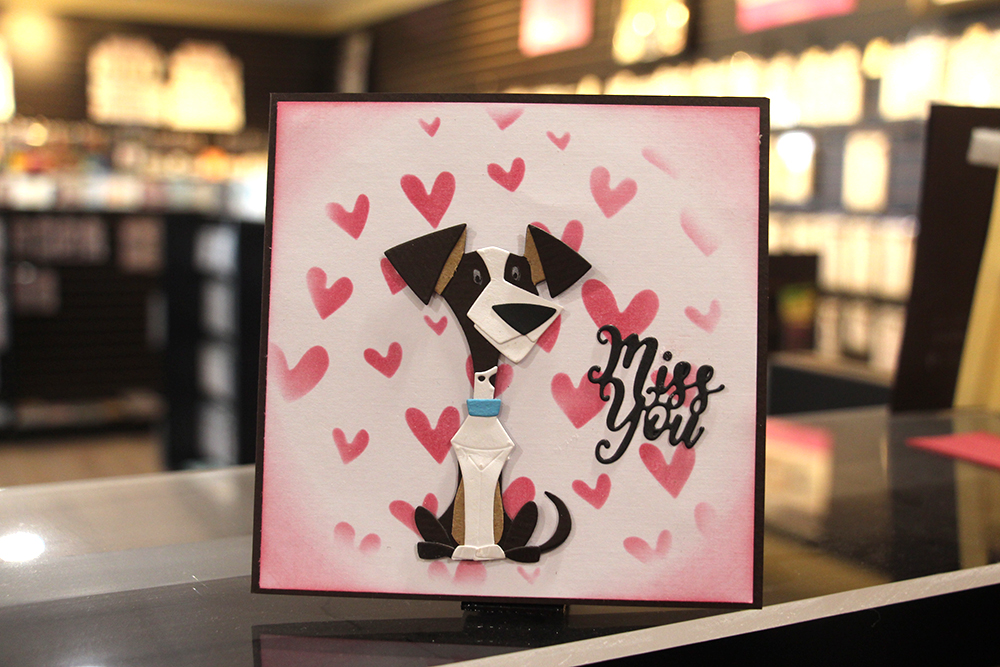 Card designed by Katarina Mioc
Other supplies used to make this card:
Creative Expressions Doodle Hearts Mask
Mini Expressions Collection Miss You Die
Memento Luxe Ink Pad in Love Letter