Making the most of what you've got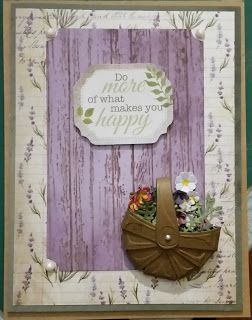 Virginia, who I introduced yesterday, made a card using the Joy!Crafts Lavender paper pack. A paper pack that I absolutely love but is not longer available. But ... I want to do this card as a class. Mostly because it uses a 3D basket from Leane Creatief that I think is under utilized and deserves a spotlight. Joy!Crafts did come out with a paper pad similar to the original but it is lacking the one wood panel page used in Virginia's card. So I had to go about recreating a wood panel. Here's my attempts: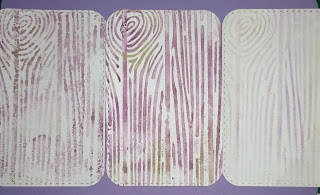 First I used an embossing folder and painted one side with Cosmic Shimmer Cloud Inks spritzed with water and used it as a stamp and pressed onto the light purple card stock (sample on the left). Not 100% sure this was the right technique, I then used the same Cloud Inks on the embossing folder but gently ran it through the die cutting machine (sample in middle).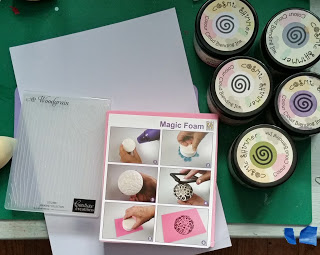 More punch on that one, Looking more promising. But not feeling it's quite right. Lastly I used the Nellie Magic Foam and pressed the embossing folder into the foam (needs to be heated up with a heat gun). Then I used my pigment inks and pressed onto the same light purple card stock (sample on the right). When I lined up everything with the background paper and embellishments, all of these looked busy.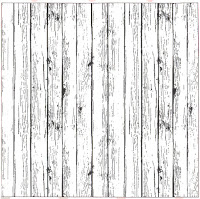 Last option for me was a wood grain stamp from Marianne. I used pigment inks and the Position-It stamping tool because I wanted to layer up with a few different shades of ink. Once dry, I did run some shades of purple in the cloud inks over the card stock to give the purple some variation. I'm actually pretty happy with the finished card. I think the pattern being closer together and thinner wood planks in the pattern, works nicely with this card.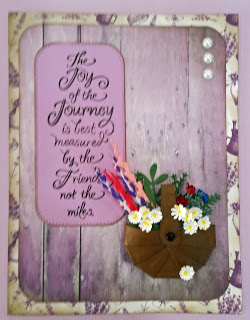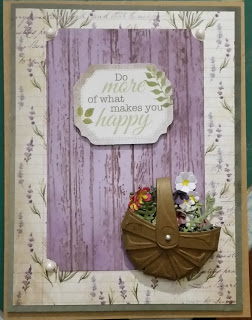 Original I was replicating on the left and my version on the right. Icing on the cake ... this Joy! paper pack had several pages of pre-printed tags, so I used one of those on my card. Worked perfectly!!
Until next time,
Happy Crafting!
Products used