This week we were inspired to do a bit of experimenting with IZINK Pigments to see how many different effects we could create using the same combination of colours. We are so pleased with the way it turned out!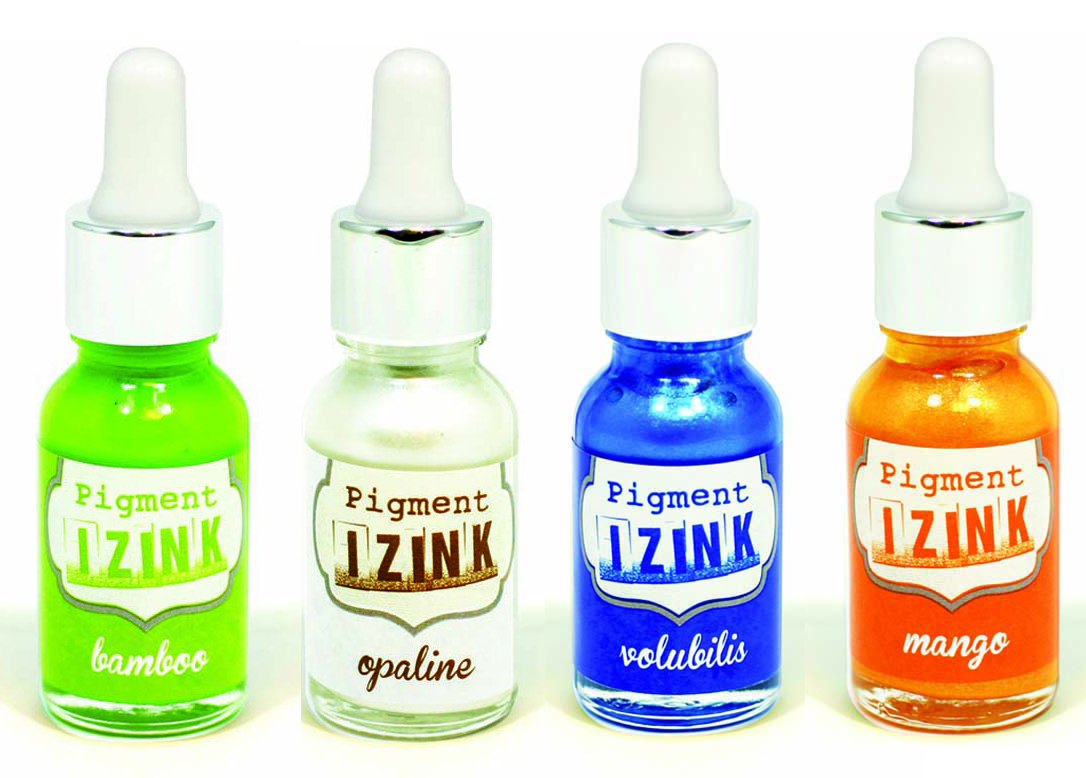 IZINK Pigments
IZINK Pigments from Aladine are a 50% water 50% alcohol mix that come in a huge range of colours. Each 15mL bottle comes with a dropper top that can be used for applying your pigments to your craft mat or directly to your projects.
We choose to work with the four colours you see above. The Bamboo is one of the Classic Pigment colours while Opaline, Volubilis and Mango are all shades of the Pearly Pigment.
Because we are new to this product, we started off by just playing around with different techniques to see what kind of effects we could achieve. We came up with a bunch of fantastic looks!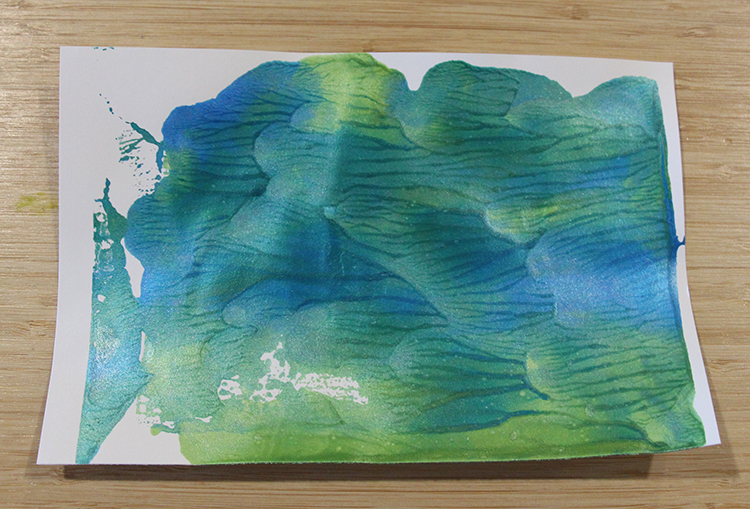 This background was created using the Bamboo and Volubilis pigments on a Mixed Media Plate. We used the dropper to apply the pigment directly to the plate, then spread the colours across the plate using a Mixed Media Roller. As you can see the undiluted pigment is very thick, which produced a wave-like effect when spread with the roller. Once the pigment was spread over the the Mixed Media Plate, we pushed a piece of white cardstock onto the design to transfer it.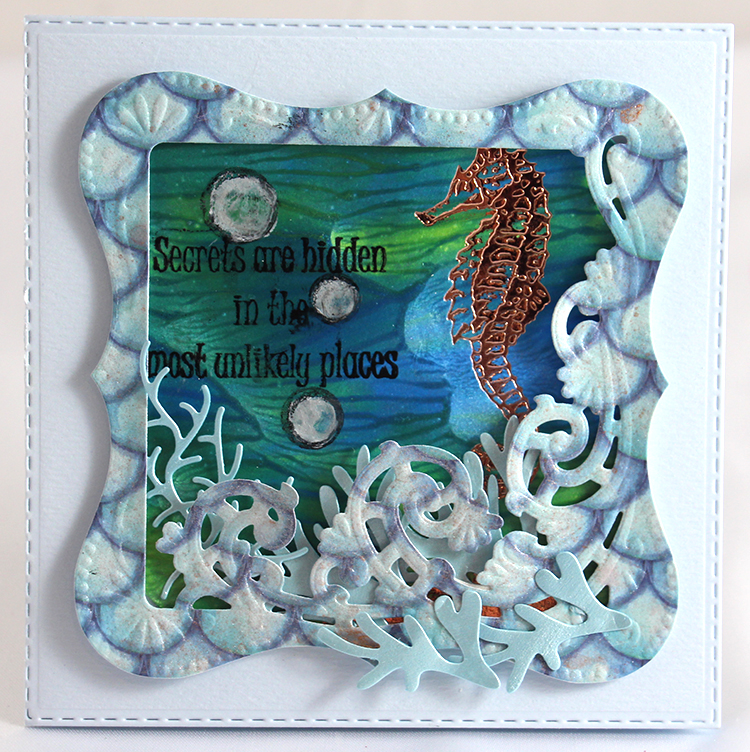 Jenn used this background to use make this pretty under-the-sea themed card.
Additional supplies used:
Lavinia Stamp "Secrets are Hidden" LAV346
Lavinia Stamp "Bubbles" LAV351
Couture Creations Seahorse Hotfoil Stamp *Coming Soon
Couture Creations Heat Activated Foil Set *Coming Soon
GoPress and Foil Machine
Marianne Design Creatables Anja's Frilly Square LR0470
Marianne Design Creatables Dolphin LR0332
Aladine Pigment Inkpad in Black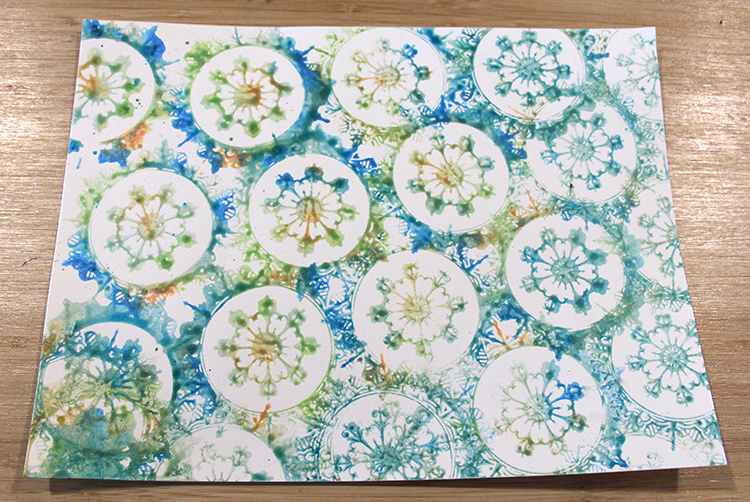 Next, we tried stamping with the pigments by applying the pigment to a craft mat using the dropper, and then spraying them with water until the colours began to blend together. We used a Creative Expressions Stamp: Yuletide Radiance and randombly stamped a whole sheet of white cardstock, being sure to rotate the stamp to ensure that the colours varied. We used the Volubilis, Mango and Bamboo Pigments to make this background.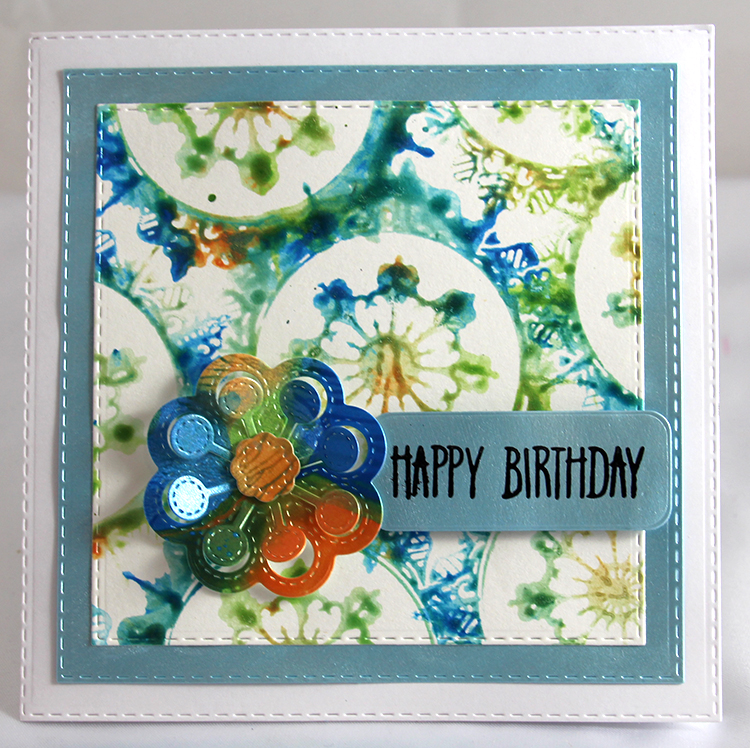 A bit of cutting and voila! A fun background for this simple birthday card. We still have more stamped cardstock leftover for more project. The flower you see here was also created using the same colours of Pigments. We simply spread the undiluted pigments onto a blending mat and pressed our cardstock into it to create a colourful design that we then cut into this bright flower. This is a great way to do some clean up without wasting any product!
Additional supplies used:
Creative Expressions Cut and Lift Floral Rounds CEDLH11011
Creative Expressions Let's Fly Away Clear Stamp Set (sentiment)
Aladine Pigment Inkpad in Black
Nellie's Choice Straight Rectangle Multiframe Die
Creative Expressions Stitched Square Peg Board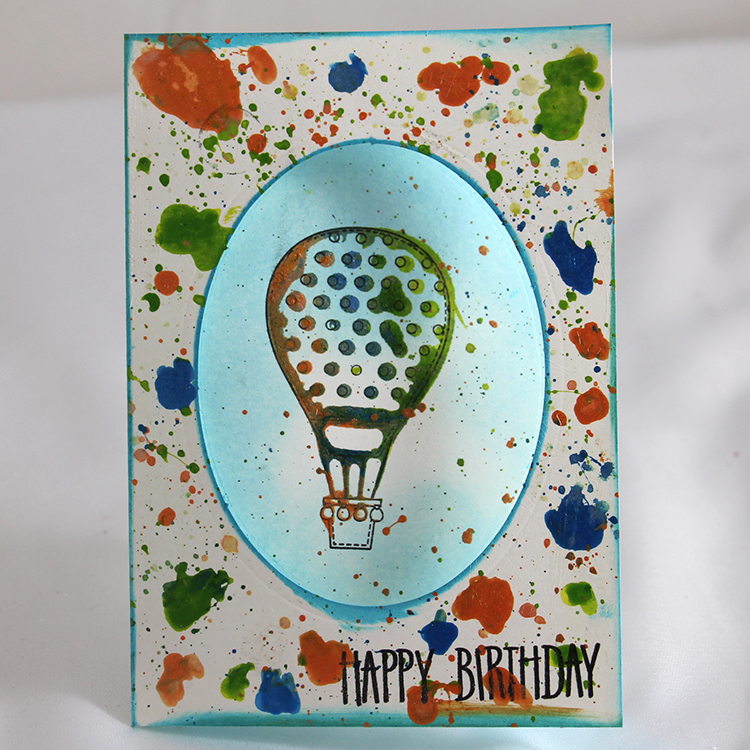 Finally, we decided to get colourful with the droppers to make this fun birthday card. To create the balloon, we used the same stammping technique we used above, but we then stamped over it again with black pigment ink to add some definition. The blue background is created using Creative Expressions Colour Cloud Ink in Summer Sky and a Smoothie. To create the ink splatters, we used the dropper to apply Pigment directly to the card, then using a water brush we dabbed at the drops to create a splatter shape before using a flicking motion with the same brush to create the smaller splatters. We used a heat tool to dry the card quickly, because the IZINK Pigment is a slow drying product so it can definitely get messy if you aren't careful.
We had a lot of fun playing with this product and can't wait to see what else we can create! We will keep you posted with new ideas as they come along. In the meantime, let us know if you have ever used IZINK Pigment before - we would love to hear your ideas!