Recently I have rediscovered how fun and easy it is to make cards using our 3D toppers. We just got a bunch of new ones in and I couldn't resist making some cards for you.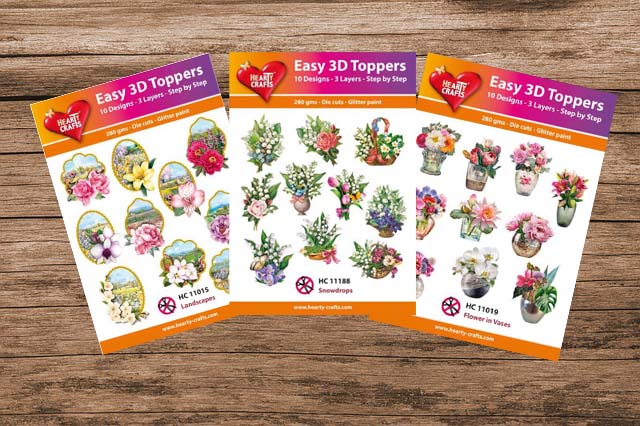 These 3D toppers come in a huge range of images and you quite honestly can make a card for any occasion. For our campaign we decided to go with a couple of our newest ones. The Landscapes, Snowdrops and Flower in Vases.
The first card sample today I used the Snowdrops 3D topper set.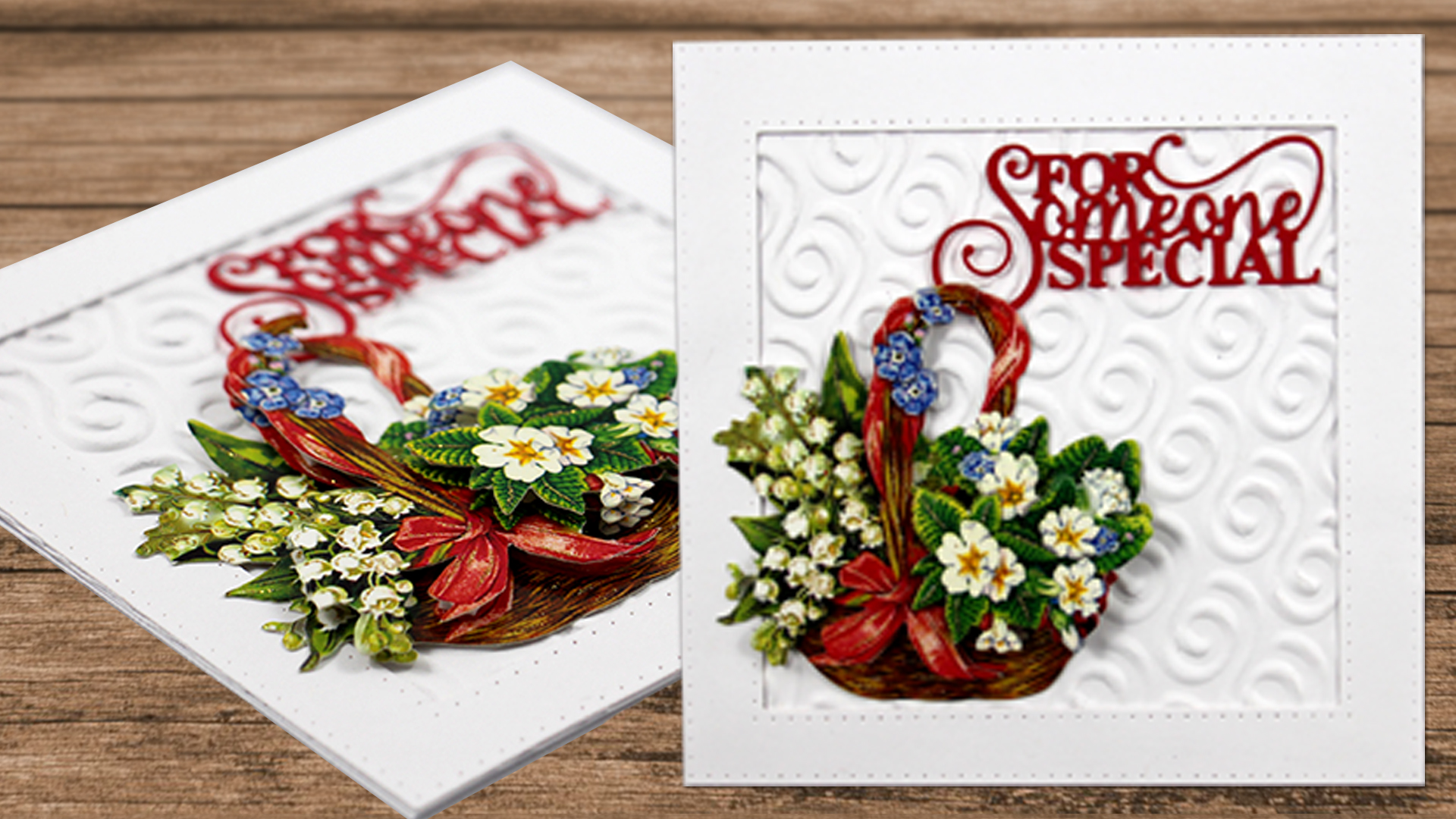 I  cut my card base to a 5 x 5 card
I used the Noble Die set Pierced Squares for the border of my card.
I decided for this sample to use the 3D embossing folder called Ribbon Swirls to emboss the background using a panel cut to 5 x5. Making sure to sprits the paper with water before running thru my cutting machine a few times to ensure I got the deep grooves that this embossing folder has.
I also used the mini sentiment For Someone Special on this card,
To assemble the 3D topper I simply used foam tabs to bump each layer up. Here you can use any thickness of tabs or even foam strips to give your 3D topper dimension.
To assemble the card I start by adhering the embossed panel to the card base and then the border I cut out with the noble die set. Decide where you want to place your 3D topper and your sentiment and adhere in place.
The second card sample I used the Flower In Vases 3D topper set.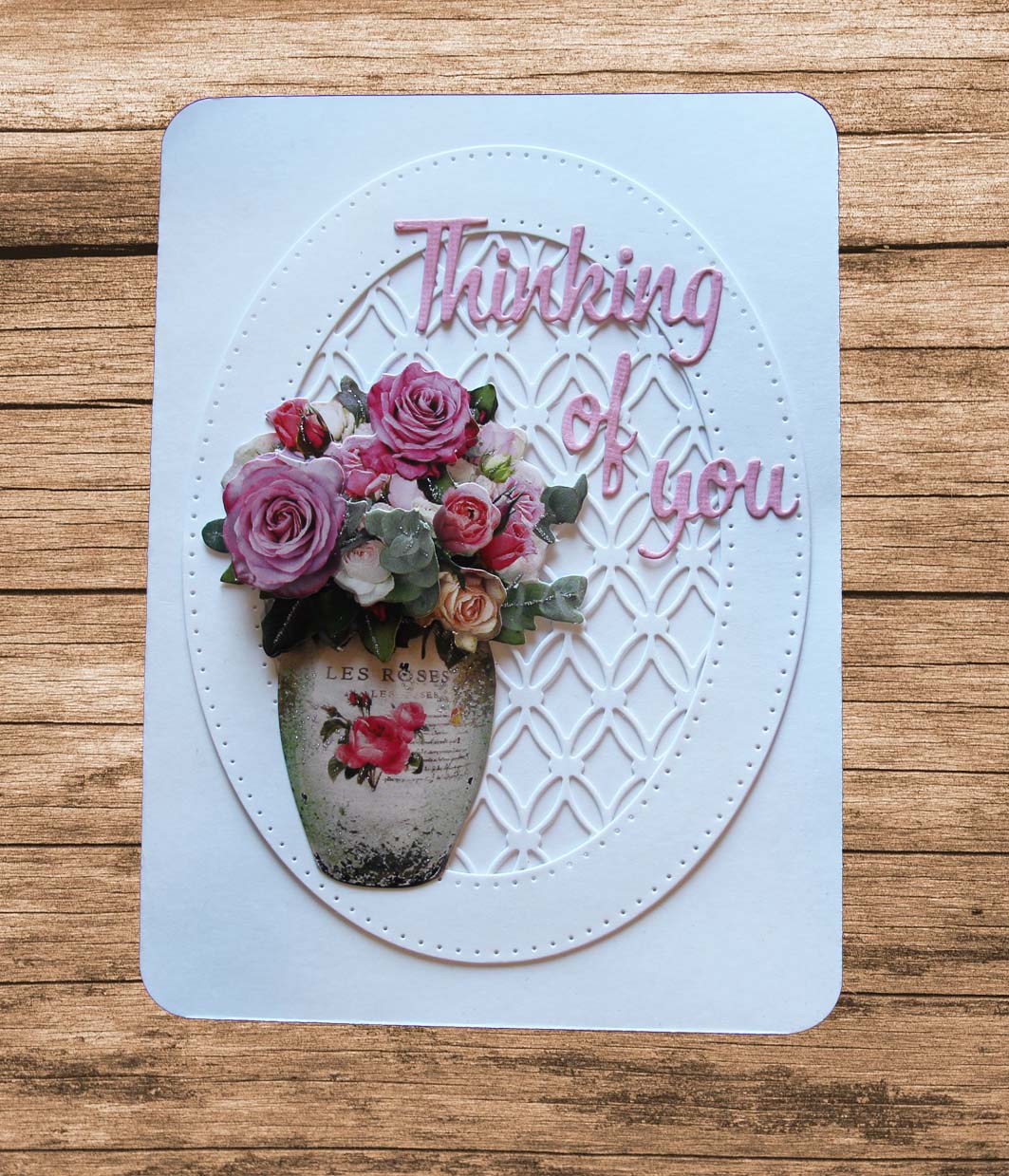 I cut out an oval using the Noble Dies - Double Pierced Ovals to frame my 3D topper image. As well as the background panel from Frantic Stamper. Thinking of you sentiment from Dee's Distinctively cut out to match the 3D topper image.
For the third card sample I used the new 3D topper set Landscapes. For the background I chose the Scalloped Lattice Frames from Creative Expressions. Using Thick Lines in a gold stickers to add some detail to the edges of the card and a gold sentiment sticker.
I hope you enjoy the video and give these 3D toppers a try for yourself.
Products Used :
Card 1
Noble Double Pierced Squares DieCED5509
Creative Expressions Embossing Folder 3D - Ribbon SwirlsEF3D-012
Creative Expressions Mini Expressions - Someone SpecialCEDME025
3D topper -Snowdrops HC1118
Card 2
Noble Dies - Double Pierced Ovals - CED5514
Tufted Cushion Card Panel - FRA9211
3D topper - Flower in Vases HC11019
Card 3
Shadow box collection - Scalloped Lattice Frames - CED9306