Welcome fellow Paper Crafters!!
Just want to fire off a quick blog on one of my favorite mixed media products. Cosmic Shimmer Mists and Vintage Mists. They are water-based spray using mica powders as the color base and, as the label says "creates amazing shimmering effects".
Here are a few cards I did this weekend where I needed a shimmer effect: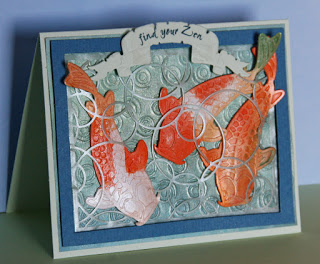 This card, using the latest Frantic Stamper Koi Fish die (FRA10068) and a previous release of the "bubble" panel (FRA9413), was colored using stamp pad inks (Colorbox Mini orange) so I could get a really deep orange color. But the ink is matte and I needed, of course, an iridescence for the fish as well as the water. Before I assembled the card, I gave an all-over mist with the Pearl Cosmic Shimmer Mist (CSM04).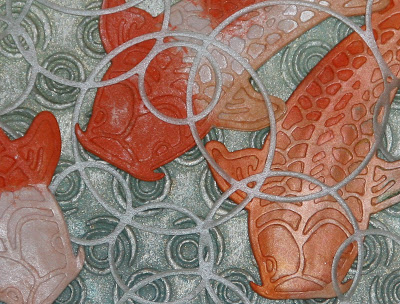 Likewise with Barney the Berner (TTLETL551). I colored using watercolor markers (Memento) and wanted a bit of shimmer to create a snow-glistened effect.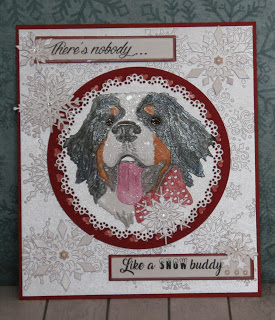 Again, I gave an all-over misting with the Pearl (CSM04), which gave the image a glisten.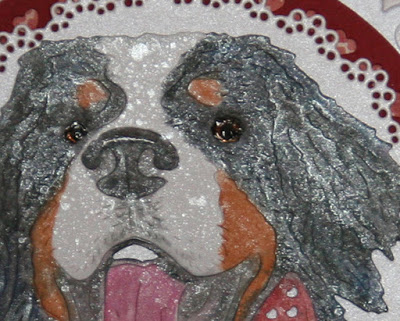 On this card, I used the Cosmic Shimmer Cloud Inks (which I love, we'll get into the use of those at a later date). Masking off the "sun" I painted with the Lemon Meringue (CSCC56). Then the rest is sprayed using the Cosmic Shimmer Mist sprays (Antique green CSVMM07 & Egyptian blue (CSVMM04).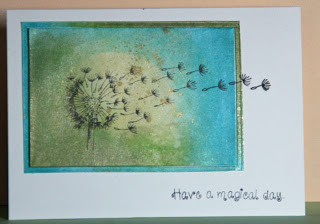 I covered the sun with a mask and sprayed the balance of the card with the desired colors, then to smooth out the image a bit so the sun wasn't so pronounced, I gave the whole card an overall mist with the Tarnished Gold mister (CSVMM08). The stamp is a Marianne Designs Dandelion (TSC0837).