Colourful Hare DIY Pencil Case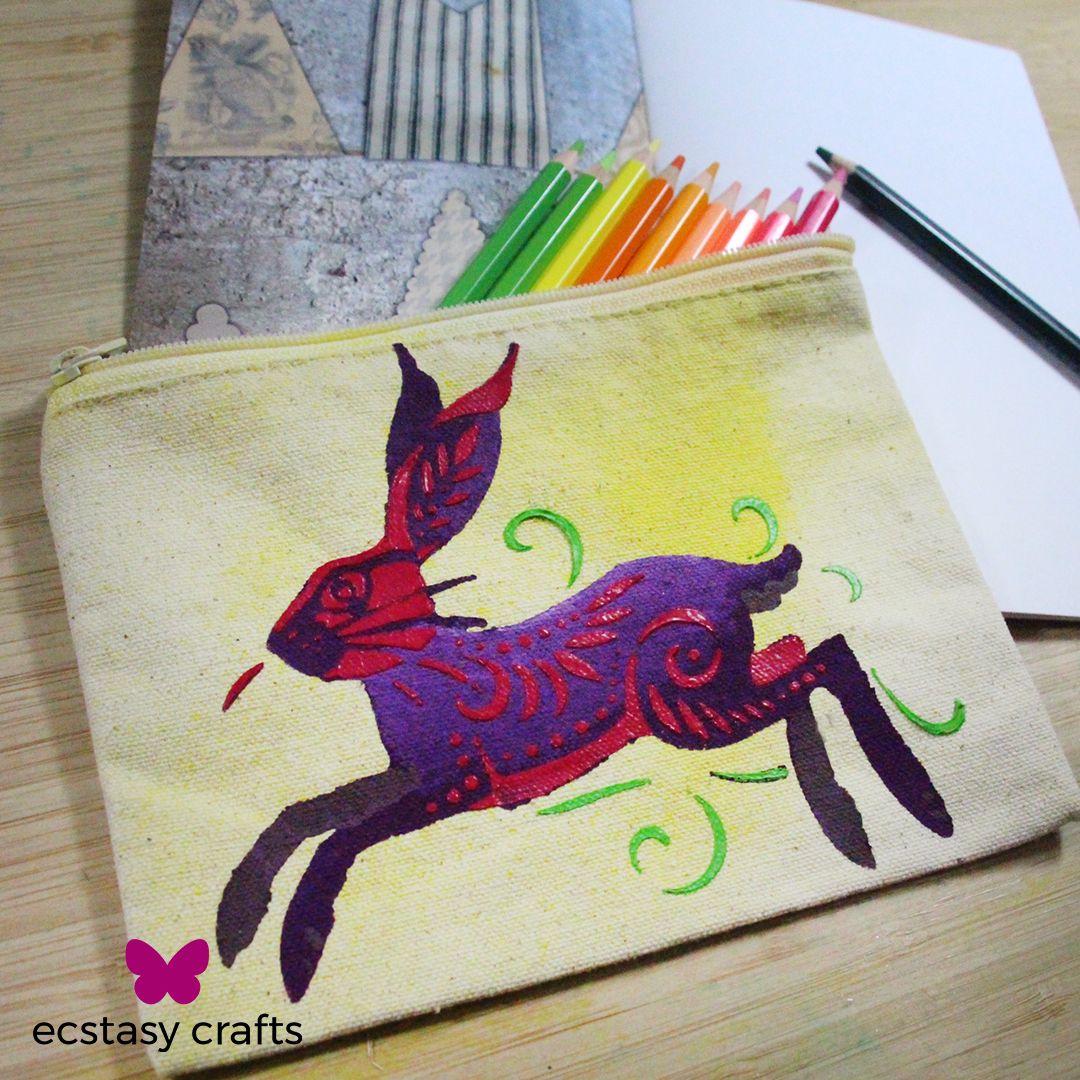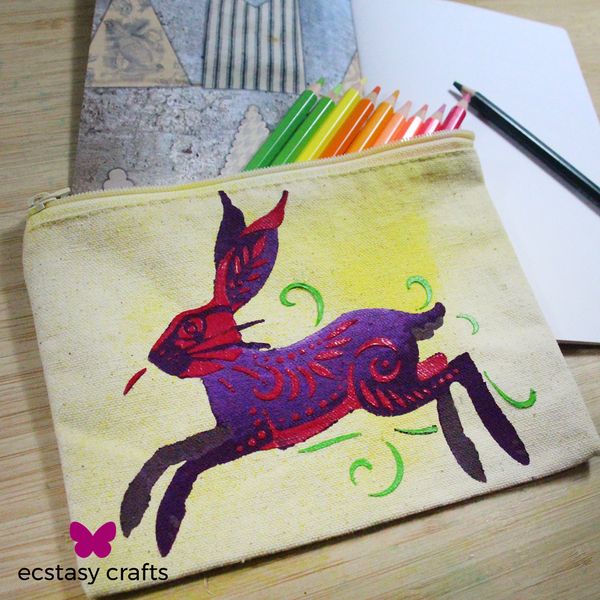 Today we are sharing a fun and colourful project on canvas using paints and texture paste from Aladine as well as the new Pink Ink Designs Layered stencils. These stencils come in four different designs with 2 layers each, which allows you to create a background and add details in different colours, like you can see in the image below of our DIY Pencil Case. As you can see, the Hare is the perfect size to fit on this high quality zipper pouch from Canvas Corp, but you can use this same technique on cards, or fabric because these paints are actually machine washable (once heat set).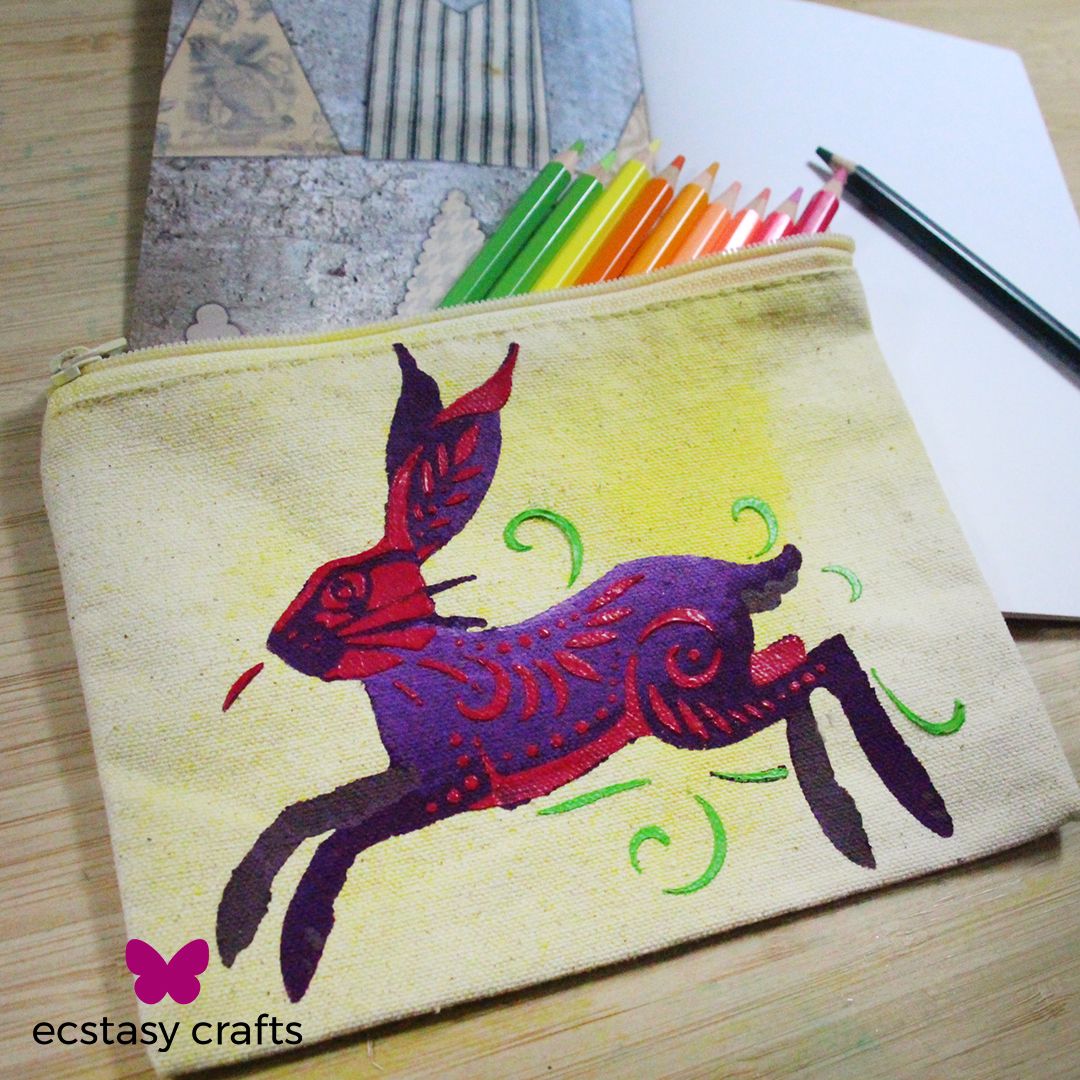 Supplies
Save on supplies by purchasing the Layered Hare Stencil Project Bundle
Instructions
Begin by mixing your Aladine Fabric Dye with water in a 1:1 concentration. Spray your pencil case liberally with water. Using your paintbrush, paint the dye onto the pencil case, starting in the centre and using smooth outward motions to create a very soft yellow circle on the centre of the case. Allow to air dry, or dry using a heat gun.
Lay the first layer of your Pink Ink Hare stencil, (the silhouette of the hare) onto your canvas. We highly recommend using the Aladine Repositionable Stencil Spray Glue to attach your stencil to the canvas. This will ensure that no paint leaks under the stencil.
Using a stippling motion, paint your hare onto your pencil case using Aladine Fabric Paint in Cachemire. Once you have covered the entire area, add some Aladine Fabric Pain in Coton to your brush, and brush some highlight onto the hare's back (this is optional). Allow to air dry, or dry paint using a heat gun.
Position your second layer stencil on top of your design. Mask off the hare's legs, as well as the swirling background patterns on the stencil using masking tape.
Using a spatula, spread IZINK 3D Texture Paste in Geramium over the stencil, being sure to smooth the surface as you go.
Remove the masking tape from the rest of the stencil. Using Aladine Fabric Pain in Suedine, paint the hare's legs. Cover the remaining areas with IZINK 3D in Bamboo.
Allow to dry. Once project is fully dried, iron to heat set and make the project washing machine safe.