When I saw this die set I fell in love. What a great idea, a bundle with a mug die and chocolate die set.
For this card I used the mug as hot chocolate along with some extra chocolate on the side. I also decided to add patterned paper in the background, because I just don't use patterned paper enough. The Mug die set also comes with a tea tag so for the tea lovers there is always that option. Here is a list of everything I used to make this card and the direction on how I assembled it.
Products used:
Instruction:
Cut and emboss as needed the following:
Card Base at 10" x 6.5" score and fold at 5"
Dark Brown layer at 5" x 6.5"
White Layer at 4 7/8" x 6 1/4"
Patterned Paper at 4 3/4" x 6 1/4"
Mug in light Pink card stock
Whip cream in white card stock
Chocolates in various colors
Assembly Instructions:
Place your cut and embossed mug in the stamping buddy pro and stamp the sentiment, first in light brown, mask off the bottom of the sentiment and only stamp the word Chocolate in the dark brown ink.
Using a smoothie to add shading onto the edges of the mug and the patterned paper.
Add chocolate sprinkles to the whip cream using a fine tip brown marker
Attach the whip cream to the mug thru the slit on the top of the mug and secure it into place from the back.
Begin to assemble the background layers onto the card base. Dark Brown first then the white and then the patterned paper
Adhere the mug using tape, glue or foam tape to give it dimension.
Arrange the cut and embossed chocolates in front of the mug and adhere them also using tape, glue or foam tape to give it dimension.
Add glitter to the whip cream and the chocolates
I hope you enjoy making this card as much as I did. Keep in mind the die set comes with a tea tag as well for all the tea lover out there. The possibilities are endless on the designs you can create. Here are some other card samples I designed with the mug die set.  Enjoy!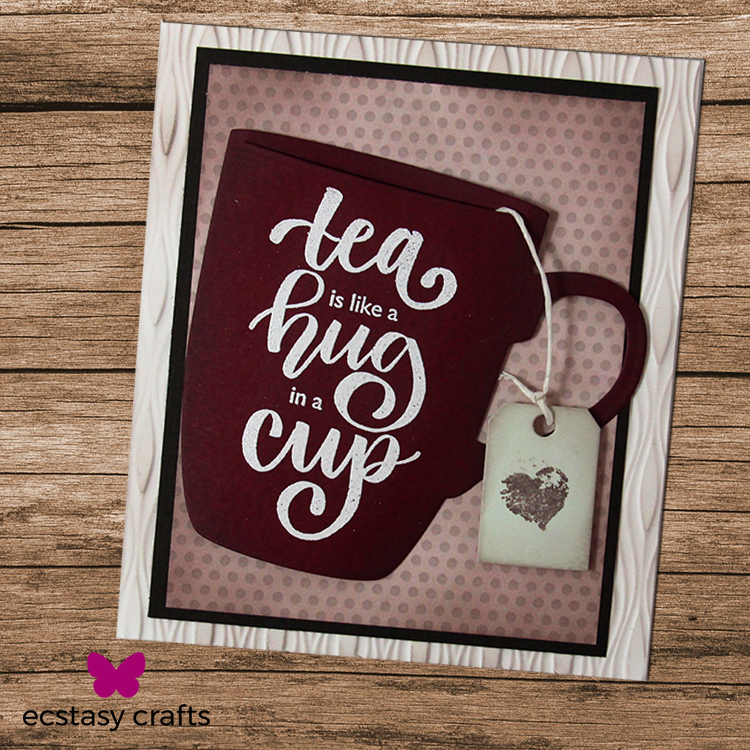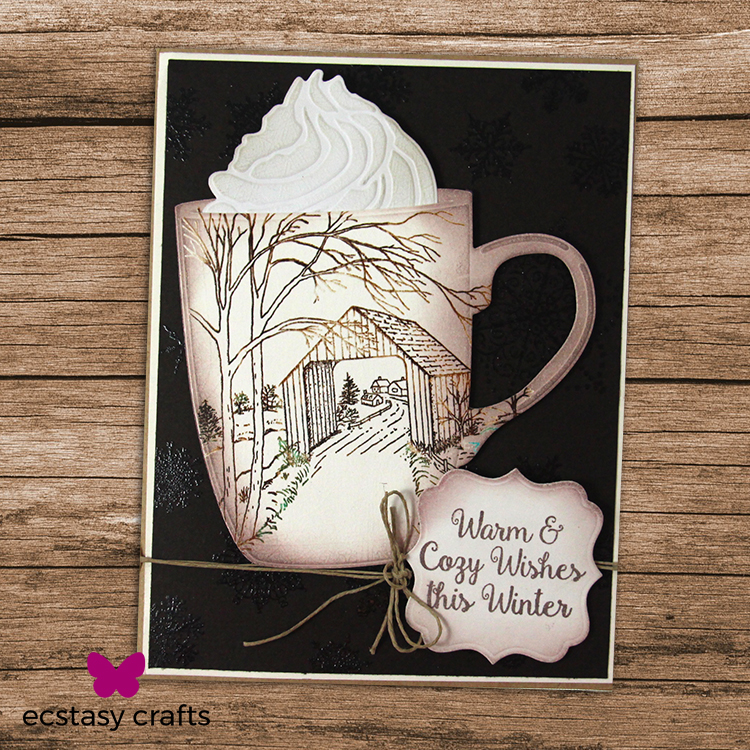 Katarina