With this bright Spring weather, I was inspired to make a colourful card using the Artsy Arabia Collection from Art By Marleen. This collection is so much fun to play with, and you can get so many unique looks from the product line!
In this video, we play with the new Antique Sand Paste by Sam Poole, as well as a fun technique with some Texture Paste and Mixed Media Embossing Powders!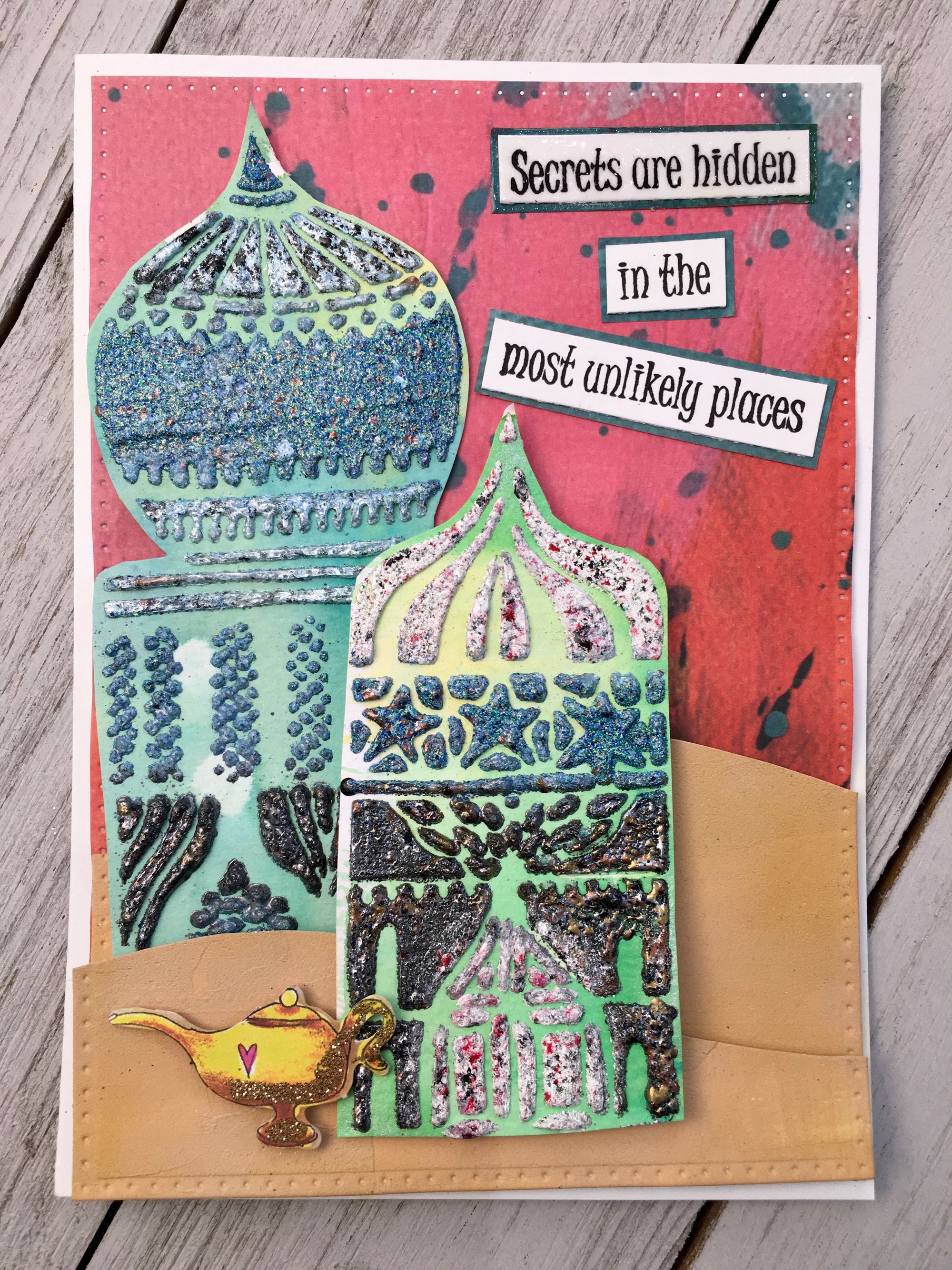 Step-by-step Instructions
Begin with a 5x7" cardbase in white cardstock
Using CED5512 rectangle die set, die cut a 4 ¾" x 6 ¾" rectangle from a sheet from Artsy Arabia Collage Paper (CPBM07) and apply to cardbase with double sided tape.
Apply Antique Sand Paste (CSASPMANGO) to white cardstock, dry with heat tool, and cut with the 4 ¾" x 6 ¾" rectangle die from CED5512. Using scissors, create two wavy layers. Add blended details in brown ink to edges of layers. Attach to cardbase with 1.5mm Foam Tape.
On watercolour paper, create an abstract background using a mix of blue, green and yellow pixie powders or watercolour and dry with a heat tool.
Use the Artsy Arabia stencil (MASKBM10) on the pixie powder paper and secure in place with magnets. Apply clear texture paste over the buildings using a palette knife. Remove stencil.
Carefully sprinkle Mixed Media Embossing powder onto the stenciled texture paste. Use one colour at a time in different areas of the design. Dry with a heat tool and cut out buildings. Attach to sand layers with foam tape.
Stamp sentiment onto white cardstock and cut out sections. Mount onto a coordinating sheet from CPBM07 and attach to the card.
Attach a lamp pre-cut paper element from STANSBLOKBM01 to the card.
Materials Used
Cosmic Shimmer - Mixed Media Embossing Powder (CSASEPFUNK, CSMMEPICE, CSASEPRASP, CSMMEPIRON)
Cosmic Shimmer Texture Paste - CSTP01
Aladine Palette knife - AD81099
Art By Marleen - Artsy Arabia Mask Stencil - MASKBM10
Distress Oxide Ink - Brushed Corduroy - TDO55839
Nellie's Choice - Blending Brush - NMMB005
Creative Expressions - Sam Poole - Antique Sand Paste - CSASPMANGO
Art By Marleen - Artsy Arabia Collage Paper - CPBM07
Creative Expressions Coconut White Card - 41051
Creative Expressions Watercolour Paper - CEWATER
Rectangle Frame Die - CED5512
Joy Crafts - 1.5mm Foam Tape - 65000022
Double Sided Tape - BC9.5
Lavinia Stamp - Secrets are Hidden - LAV346
Art By Marleen - Pre-Cut Paper Elements - STANSBLOKBM01
Cosmic Shimmer Pixie Powder - CSPP18 & CSPP09
Thanks for crafting along with us! Don't forget to share your latest crafting project with us on our Facebook page Crafting With Ecstasy!