An old technique, but worth the repeat. Gel-Water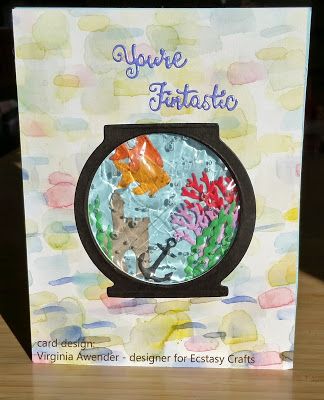 It's about time I introduce one of our card designers, Virginia Awender, Virginia is so creative in her designs and her use of paper in her card designs is inspired. You will be seeing them frequently on this blog and in our card classes at the EC Papercrafts retail store in Shannonville, Ontario (Canada).
Virginia used a technique that has been around for a few years but we revisited it here with the Creative Expressions "Fillables" line of the Fish Bowl (CEDD21001) and Underwater Accessories (CED21002). It uses either hair gel or in Virginia's card she used hand sanitizer gel. Hair gel is hard to find in clear and we needed clear for this project.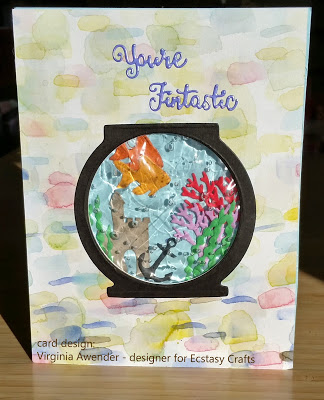 The colored paper is a release from Marianne Designs from the summer. Love this paper, but then of course I am a bit of a watercolor freak, if you've been following 😉.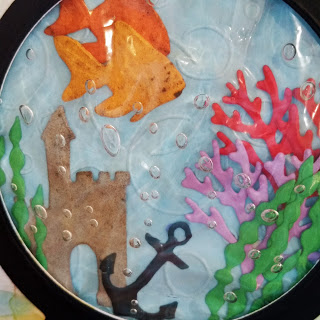 The background of the fish bowl is embossed with a new embossing folder from Leane Creatief "Bubbles"(352960).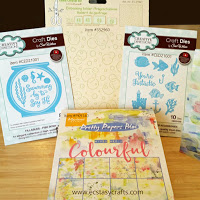 So for the gel technique you just fill a plastic bag of some sort with the gel and if you are lucky enough to have a heat sealer, you'd seal it off. But Virginia just used "a whole bunch of glue." And what makes this so applicable is the tiny air bubbles that occur in the gel. Simply adorable!! You can see the Bubbles background in the back of the gel and accessories done in a turquoise paper.
Products used