Abstract Sunset Birthday Card
Create a glowing abstract background using IZINK pigment.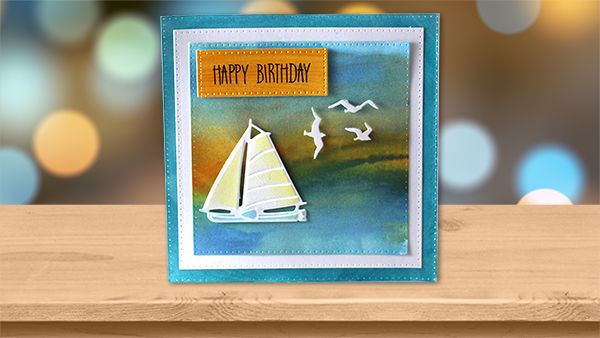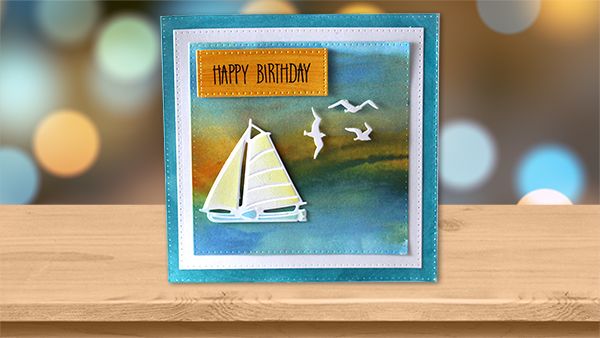 Create a glowing abstract background using IZINK pigment.
Materials
IZINK Metal in Light Blue (AD19129) and Yellow (AD19102)
Flying Gulls Die (FRA9921)
Sailboat Die (LR0199)
Let's Fly Away Clear Stamp Set (CEC846)
IZINK Pigment in Volubilis, Mango and Topaz
Noble Double Pierced Squares Die Set (CED5509)
Aladine Brush 3cm (AD80131)
3D Foam tabs 2mm (65000013)
Get all of the supplies you need to make this project on our website:
Directions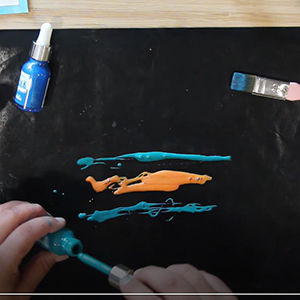 Step 5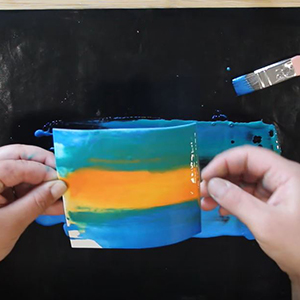 Step 8
Cut three layers from the CED5509 die to use as the layer for your card
Using your craft mat or blending mat, spread the IZINK Pigment onto the work surface. Spreading horizontal from left to right. Mango in the middle and then the other colors on top and bottom.
Add a small amount of water using a water dropper to the Pigment and move the pigment left to right to fill in all the bare areas using your brush.
Place the smallest of the three papers onto the craft mat squishing the pigment ink from left to right not up and down.
Slowly pull and drag the paper to the right until it comes off the work area. The desired background may take a few pulls to achieve. Wipe surface clean and repeat steps 2-5 until you reach your desired look.
Using a large brush paint the largest of the three sized papers with the Topaz IZINK pigment and a smaller rectangle for the sentiment with the Mango color
Cut out the rest of the components of the card and while the sailboat is still in the die use IZINK inks to lightly color the sailboat.
Stamp the sentiment onto the dry mango rectangle using pigment ink
Assemble the card with the painted square layer on the bottom the white square in the middle and the colorful square on top and then adhere the rest of the card components using 3D pop up foam dots.
Want to save these instructions for later?
More IZINK Pigment Inspiration
If you liked the Abstract Sunset Birthday Card project, you may be interested in some of our other great ideas using IZINK Pigment to make colourful backgrounds. Also, don't forget to pick up some IZINK Pigment to add some colour to any of your projects.